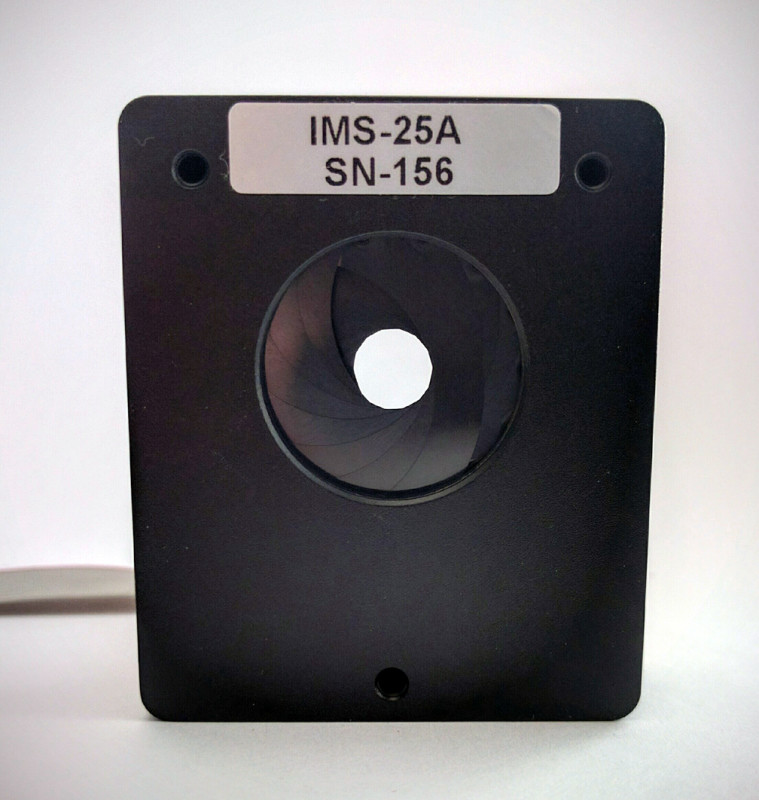 IMS-25A
Available In Stock
Motorized Optical Iris Diaphragm - from $1,295.00 -
Special motorized and electronics
Description
The Motorized Optical Iris Diaphragm is a mechanical device used to control the amount of transmitted light through an adjustable aperture.
The shape of the circular optical aperture is not perfect circular because it is achieved using a number of thin and smooth curved blades or leaves.
These blades are attached at one end to a ring which when rotated changes the diameter of the rezulting aperture.
Regular irises do not fully close but can achieve up to a minimum aperture of 0.5 mm diameter.
Zero Aperture or fully closable iris diaphragms are a special category. They consist of 2 parallel planes of blades which can fully obstruct the light.
Applications for Motorized irises include cameras, microscopes and other scientific instruments or apparatus where it limits the amount of light reaching a specimen, a sensor or photo-detector.
The IMS-25A motorized optical iris diaphragm allows continuous and smooth adjustment of the circular aperture from a computer or another electronic programmable machine.
- Motorized Iris Diaphragm
- Fully closable
- Aperture diameter 0-25mm
- Two lamella sets at a distance of 2.8mm 
- Stepper or DC Geared Servomotor 
- Up to 23000 increments for full open-close operation
- Motor current max. 0.17A
- Motor voltage max. 12V
- Opening time 0.2 to 30 sec.