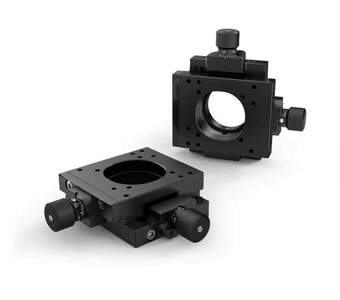 XY Stages KT 65
OWIS Fine opto-mechanics
Description
The KT 65 XY stages have a high-precision double-dovetail guide.
It allows fine adjustment in both X and Y direction. The aperture, 32 mm in diameter, is retained within the entire adjustment range.
The KT 65 XY stages are available with fine-thread spindles and graduated buttons. The travel is 6 mm on each axis.
for use with SYS 65
deformation-resistant aluminium
reflection-poor, black anodized
with clamping
with fine-thread spindles
high load capacity
ways of installing:
– on slide
– on pin
Option
- non-magnetic or vacuum-prepared versions available
| Art. Nbr. | Type | Title |
| --- | --- | --- |
| 16.362.0300 | KT 65 | XY stage KT 65 with fine-thread spindles |
| 16.362.0303 | KT 65-T-D35 | XY stage KT 65 with fine-thread spindles and wobble plate ø 35 mm |
| 16.362.0304 | KT 65-T-D45 | XY stage KT 65 with fine-thread spindles and wobble plate ø 45 mm |
| 16.362.0320 | KT 65-STA | XY stage KT 65 with fine-thread spindles and pin adapter plate |
| 16.362.0323 | KT 65-STA-T-D35 | XY stage KT 65 with fine-thread spindles, pin adapter plate and wobble plate ø 35 mm |
| 16.362.0324 | KT 65-STA-T-D45 | XY stage KT 65 with fine-thread spindles, pin adapter plate and wobble plate ø 45 mm |
| 16.021.3028 | RT 65-28-R | slide SYS 65, 28 mm wide, with knurled screw |
| 16.021.1059 | RT 65-59-R | slide RT 65, 59 mm, with knurled screw |
| | STF 15 | pin 15 - s. product information STF 15 |