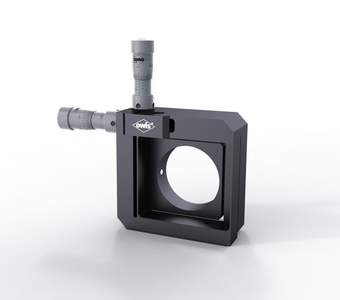 XY Fine Adjustment Stages FV 40-XY
OWIS Fine opto-mechanics
Description
In order to adjust two axes with high precision, the FV 40-XY XY fine adjustment stages are used. Small travels can be moved with high sensitivity and very precisely.
Build-in spring elements make backlash-free motion possible. The XY fine adjustment stages have a location diameter of 25 mm, to retain for example mounted optics or laser accessories.
As adjusting elements fine-thread screws with knurled head and hexagon socket as well as micrometers, for highest adjusting accuracy, are available.
for use with SYS 40
deformation-resistant aluminium
reflection-poor, black anodized
sensitive adjustment of two axes
fine-thread screws or micrometers
backlash-free motion
flexible and compact design
way of installing
- for use with SYS 40 directly on slide RT 40
Option
- non-magnetic or vacuum-prepared versions available
| Art. Nbr. | Type | Title |
| --- | --- | --- |
| 14.323.0100 | FV 40-XY-D25-FGS | XY fine adjustment stages, 3 mm travel, with fine-thread screws |
| 14.323.0200 | FV 40-XY-D25-MS | XY fine adjustment stages, 3 mm travel, with micrometers |
| 14.021.0020 | RT 40-20-R | slide SYS 40, 20 mm, with knurled screw |
| 14.022.0020 | RT 40-20-M3 | slide RT 40, 20 mm, with hexagon socket head cap screw |