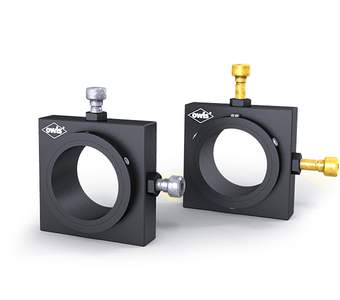 XY Adjusting Mounting Plates OH 40
OWIS Fine opto-mechanics
Description
The OH 40 XY adjusting mounting plates are cost-effective and space-saving elements that are used in cases where XY stages or combinations of measuring stages are oversized or too expensive.
By means of two adjustment screws and a compression spring, these special mounts can be sensitively adjusted orthogonally to the optical axis in X and Y direction. The XY adjusting mounting plates may be used as components of the system SYS 40 or on pins.
The OH 40 adjusting mounting plates offer a free diameter of 25 mm which can be used to hold mounted optics for example. So mounts and re­duction inserts without V-groove can be used, too.
The XY adjusting mounting plates are equipped with two fine-thread screws. The special design enables a XY trans­lation nearly on a plane surface.
for use with SYS 40
deformation-resistant aluminium
reflection-poor, black anodized
ways of installing
- on slide RT 25
- with pin
Option

- non-magnetic or vacuum-prepared versions availabl
| Art. Nbr. | Type | Title |
| --- | --- | --- |
| 14.202.0025 | OH 40-D25-FGS-XY | XY adjusting mounting plates for ø 25 mm |
| 14.202.1025 | UOH 40-D25-FGS-XY | XY adjusting mounting plates for ø 25 mm, non-magnetic |
| 14.021.0010 | RT 40-10-R | slide SYS 40, 10 mm, with knurled screw |
| 14.022.0010 | RT 40-10-M3 | slide SYS 40, 10 mm, with hexagon socket head cap screw |
| 21.115.4325 | STF 15-25-AM4-3 | pin adapter M6-M4 |