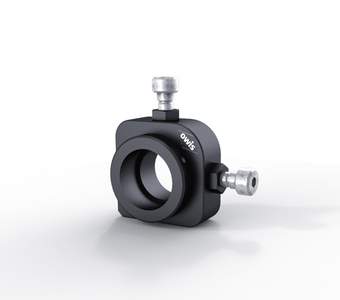 XY Adjusting Mounting Plates OH 25
OWIS Fine opto-mechanics
Description
The OH 25 XY adjusting mounting plates are cost-effective and space-saving components. They are used in cases where for cost or space reasons XY stages and XY combinations of translation stages cannot be used.
Mounted optics, inserts and adjustable inserts are located in the optical path via these adjusting mounting plates. By means of two fine-thread screws and a compression spring, these special mounts can be sensitively adjusted orthogonally to the optical axis in X and Y direction. The special design enables a XY translation nearly on a plane surface.
To mount them on slides RT 25, the XY adjusting mounting plates OH 25 have M2.5 threaded holes. Additionally, all holders have a M4 thread to put them on pins STF 15.
for use with SYS 25
deformation-resistant aluminium
reflection-poor, black anodized
ways of installing
- on slide RT 25
- with pin
Option
- vacuum-prepared versions available
| Art. Nbr. | Type | Title |
| --- | --- | --- |
| 12.202.0016 | OH 25-D16-FGS-XY | XY adjusting mounting plates for mounted optics ø 16 mm |
| 12.021.0015 | RT 25-15-R | slide SYS 25, 15 mm, with knurled screw |
| 12.022.0015 | RT 25-15-M2,5 | slide RT 25, 15 mm, with hexagon socket head cap screw |
| 21.115.4325 | STF 15-25-AM4-3 | pin adapter M6-M4 |