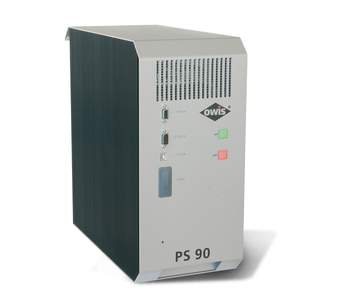 Universal Position Control Units PS 90
OWIS Fine opto-mechanics
Description
The PS 90 is a universal modular designed position control unit, flexibly configurable according to the application field.
It is a powerful device which can control maximum nine axes. Thus, 2-phase step motors or DC motors (brush and brushless) can work together. Linear motors can be operated as well. Here, the axes one, four and seven are equipped with a motor-holding brake.
For highly precise positioning tasks there is a further input for incremental encoder or a position measuring system available for each axis.
Micro-step mode with step motors guarantees smooth running and high resolution. These motors can be operated up to 256 micro steps per full step using the software.
The PS 90 is operated and programmed by a PC. Alternative it can also be used stand-alone with a handheld terminal with LC-display and keypad or an joystick.
For the communication with a PC, USB and RS232 interfaces are integrated. The optional Anybus interface (Anybus module "Modbus/TCP") enables the communication via Ethernet.
Eight inputs and eight outputs allow flexible to communicate with different peripherals, for example: TTL, analog and PLC level.
Because of safety requirements, an external emergency-stop button is pluggable.
The PS 90 provides point-to-point positioning in trapeze or S-curve velocity-time-profiles.
A power cable (2.5 m) and a USB cable (3 m) are part of the
delivery as well as a CD with the proven software tool OWISoft, the
driver and SDK for C, C++, C#, LabView (V 8.2 and higher) and additional programming languages (32/64 bit). Thus, the PS 90 can be configured and operated comfortably.
Supported operating systems: Windows XP, Windows Vista (32/64 bit), Windows 7 (32/64 bit), Windows 8 (32/64 bit), Windows 8.1 (32/64 bit) and Windows 10 (32/64-Bit).
Foreign motors can also be operated.
up to 9 axes controllable
for 2-phase step motors and DC servo motors (brushed and brushless)
micro step mode up to 1/256
USB and RS 232 interface
8 TTL-, 8 Analog- and 8 SPS- inputs and outputs
4 configurable limit switch inputs per axis
point-to-point operation, circular interpolation and linear interpolation
programmable velocity profiles
OWISid
Options
- ethernet Interface
- handheld terminal
- Joystick
- connection for measuring Systems
- stand-alone compiler
Art. Nbr.
Type
Title
53.90.2403
PS 90-24-03

PS 90 base unit, 24V/480W, 1-3 axes, without drive module

53.90.2406
PS 90-24-06

PS 90 base unit, 24V/480W, 1-6 axes, without drive module

53.90.2409
PS 90-24-09

PS 90 base unit, 24V/480W, 1-9 axes, without drive module

53.90.4803
PS 90-48-03

PS 90 base unit, 48V/480W, 1-3 axes, without drive module

53.90.4806
PS 90-48-06

PS 90 base unit, 48V/480W, 1-6 axes, without drive module

53.90.4809
PS 90-48-09

PS 90 base unit, 48V/480W, 1-9 axes, without drive module

53.90.01
AM-2SM

drive module for 2-phase step motor

53.90.02
AM-DC

drive module for DC servo motor (brush)

53.90.03
AM-2SM-EC

drive module for 2-phase step Motor with encoder

53.90.04
AM-BLDC

drive module for DC servo motor (brushless)

53.20.S300
KAB-09-HD15-3

connecting cable 3 m long, shielded, for 2-phase step motor up to 1.8 A

53.27.S300
KAB-79-HD15-3

connecting cable 3 m, shielded, for 2-phase step motor up from 1.8 A
(twin conductor with encoder connection)

53.20.D301
KAB-09-HD26-3

connecting cable 3 m, shielded, for DC servo motor (brush) up to 3.6 A

53.27.D304
KAB-79-L18+L6-3

connecting cable 3 m, shielded, for DC servo motor (brush) up to 7.2 A and 2-phase step motors
with additional encoder or motor holding brake (twin conductor)

53.90.9015
PS 90-3LMS

evaluation measuring system for 3 axes

53.90.1027
PS 90-LMS-A1

connection measuring system/encoder for 1 axis

53.90.9033
PS 90-BR

extra charge for additional motor brake

53.90.P7
PS 90-AB-MOD

additional 1 ethernet interface (Modbus/TCP)

53.90.9990
PS 90-HDT

handheld terminal with connecting cable, 2 m, shielded

53.90.9991
PS 90-JOY

joystick for 3 axes, analog, with connecting cable, 3 m

53.90.9995
PS 90-NOT

emergency stop button with 3 m connecting cable

53.90.9993
PS 90-RS 232

RS 232-interface cable, 3 m

53.90.0019
PS 90-19R

19" rack

53.93.0000
PS 90-SA-USB

stand-alone-compiler with USB-dongle