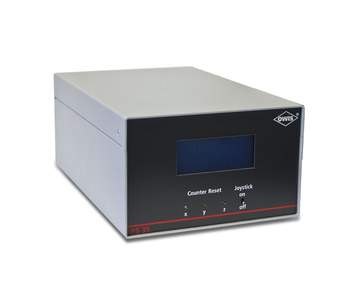 Universal Position Control Units PS 35
OWIS Fine opto-mechanics
Description
The PS 35 as an universal position control unit in a table top with

LCD controls up to three axes of 2 phase step motors or DC servo motors (brush). Different combinations of both motor types are possible. The display shows the status of each axis and its position

with measuring unit. Further, for each axis a reset button is provided.
Micro-step mode with step motors guarantees smooth running and high resolution. These motors can be operated up to 256 micro steps per full step using the software.
The PS 35 is operated and programmed by a PC. Several inputs and outputs are integrated to communicate with different peripherals, e.g. TTL, analog as well as two power outputs for motor holding brakes.
The PS 35 provides point-to-point positioning in trapeze or S-curve velocity-time-profiles.
Part of the delivery is a CD with the proven software tool OWISoft, the driver and SDK for C, C++, C#, LabView (V 8.2 and higher) and additional programming languages (32/64 bit). Thus, the PS 35 can be configured and operated comfortably.
Supported operating systems: Windows XP, Windows Vista (32/64 bit), Windows 7 (32/64 bit), Windows 8 (32/64 bit), Windows 8.1 (32/64 bit) and Windows 10 (32/64-Bit).
For power supply an external desktop power supply is required attached in accessories.
Foreign motors can also be operated.
up to 3 axes controllable
for 2-phase step motors and DC servo motors
micro step mode up to 1/256
USB and RS 232 interface
8 TTL / analog inputs, as well as inputs for encoder
2 configurable limit switch inputs per axis
5 TTL and 2 power outputs
point-to-point operation, circular interpolation and linear interpolation
programmable velocity profiles
Options
- joystick
- stand-alone compiler
- emergency-stop button
| Art. Nbr. | Type | Title |
| --- | --- | --- |
| 54.35.130 | PS 35-3SM | control unit for 3 x 2-ph. step motors |
| 54.35.121 | PS 35-2SM-1DS | control unit for 2 x 2-ph. step motors and 1 x DC servo motor (brush) |
| 54.35.112 | PS 35-1SM-2DS | control unit for 1 x 2-ph. step motor and 2 x DC servo motors (brush) |
| 54.35.103 | PS 35-3DS | control unit for 3 DC servo motors (brush) |
| 53.20.S300 | KAB-09-HD15-3 | connecting cable 3 m long, shielded, for 2-phase step motor up to 1.8 A |
| 53.20.D301 | KAB-09-HD26-3 | connecting cable 3 m, shielded, for DC servo motor (brush) up to 3.6 A |
| 54.35.2490 | NT-2490-SV | external desktop power supply unit for power supply of the controls PS 10, PS 30 and PS 35 |
| 53.90.9994 | PS 30-90-JOY-3 | joystick for 3 axes, analog, with connecting cable, 3m |
| 53.90.9993 | PS 90-RS 232 | RS 232-interface cable, 3 m |
| 54.35.0019 | PS 35-19R | 19" rack |
| 53.93.0000 | PS 90-SA-USB | stand-alone-compiler with USB-dongle |