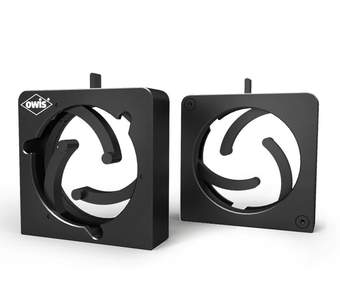 Universal Optic Holders UNOH 65
OWIS Fine opto-mechanics
Description
The univeral optic holders UNOH 65 offer the flexibility which is a prerequisite for efficient work in every optics laboratory. Moreover, they lead to significant time savings, as a complete removal and installation of different holders is not required any more.
The holders are capable to carry mounted and unmounted optics with ø 22 mm up to 51 mm. They can be mounted on both slides RT 65 for use with SYS 65 or on pins.
The handling of the UNOH is simple: A small lever is pushed back, the arms open and the optic can be inserted. By releasing the lever, the arms enclose the optic and put them securely centered in the beam.
for use with SYS 65
deformation-resistant aluminium
refection-poor, black anodized
holding arms made of POM
for optics from ø 22 mm up to 51 mm
ways of installing
- on slide RT 65
- on pin
| Art. Nbr. | Type | Title |
| --- | --- | --- |
| 16.105.2251 | UNOH 65 | universal optic holders for optics from ø 22 mm up to 51 mm |
| 16.021.0020 | RT 65-20-R | slide RT 65, 20 mm, with knurled screw |
| 16.022.0020 | RT 65-20-M4 | slide RT 65, 20 mm, with hexagon socket head cap screw ISO 4762 |