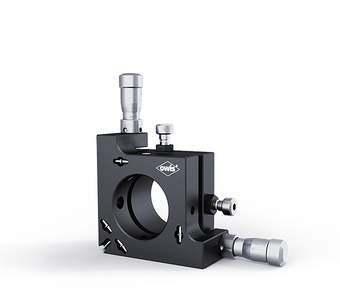 Transmitting Mounts with lateral screws TRANS 40S-XY
OWIS Fine opto-mechanics
Description
The TRANS 40S-XY transmitting mounts with lateral screws are based on TRANS 40S transmitting mounts, but with additional XY adjustment (comparable with the OH 40 XY adjusting mounting plates). This construction allows the adjustment of an optical part in XY direction as well as in theta and phi direction.
Compared to the versions with axially mounted screws, the TRANS 40S-XY saves considerable axial space. Further more, the danger of accidental contact with the beam during adjustment is almost excluded.
As with the standard versions, there is the possibility for mounting two optics. Beside the adjustable element, a filter or a similar component can be fitted not influencing existing space.
for use with SYS 40
deformation-resistant aluminium
reflection-poor, black anodized
XY adjustment with lateral fine-thread screws and theta-phi adjustment
2 holes to fix optics with ø 25 mm
ways of installing
- on slide RT 40-20-R
- on slide RT 40-20-R-LL
- on pin
- on an optical table via adapter plate
Art. Nbr.
Type
Title
26.204.5251
TRANS 40S-D25-XY-FGS

transmitting mount for mounted ø 25 mm optics, with lateral fine-thread screws
for theta-phi adjustment and two lateral fine-thread screws for XY adjustment

26.204.5252
TRANS 40S-D25-XY-MS

transmitting mount for mounted ø 25 mm optics, with lateral micrometers
for theta-phi adjustment and two fine-thread screws for XY adjustment

26.105.9001
FP-K50-LL

base plate with slotted hole, 45 x 30 x 7.5 mm

14.021.0020
RT 40-20-R

slide SYS 40, 20 mm, with knurled screw

14.021.3020
RT 40-20-R-LL

slide RT 40, 20 mm, with slotted hole for M3 and knurled screw

STF 15

pin 15 - s. product information STF 15