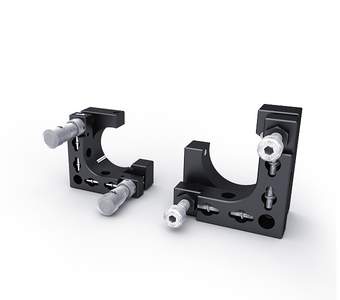 Transmitting Mounts with clear edge TRANS 40C
OWIS Fine opto-mechanics
Description
The transmitting mounts with clear edge TRANS 40C are used especially for transmitting optics and beamsplitters. Alternatively there can be assembled mounted optics with 25 mm diameter or unmounted with 1" diameter in the beam path.
Because of the openings at the carrier- and clamping plate, the light path can directed next to the optic, in an angle or deflected.
The two fine-thread screws or micrometers allow a sensitive adjustment.
Transmitting mounts with a third fine-thread screw on request.
The M2.3 and M6 threaded holes on both sides of the carrier plate permit a left and right hand operation on slides RT 40 or pins STF 15.
for use with SYS 40
deformation-resistant aluminium
reflection-poor, black anodized
theta-phi adjustment
ways of installing
- with M6 threaded hole
- on pin
- on a slide RT 40
Option
- non-magnetic or vacuum-prepared versions available
Art. Nbr.
Type
Title
26.204.6251
TRANS 40C-D25-FGS

transmitting mount with clear edge, ø 25 mm, with fine adjustment screws 

26.204.6252
TRANS 40C-D25-MS

transmitting mount with clear edge, ø 25 mm, with micrometers

26.204.6261
TRANS 40C-D26-FGS

transmitting mount with clear edge, ø 25 mm / 25.4 mm (1"), with fine-thread screws

26.204.6262
TRANS 40C-D26-MS

transmitting mount with clear edge, ø 25 mm / 25.4 mm (1"),

 

with micrometers 

26.105.9001
FP-K50-LL

slotted base plate, 45 x 30 x 7.5 mm

14.021.0020
RT 40-20-R

slide SYS 40, 20 mm, with knurled screw

14.021.3020
RT 40-20-R-LL

slide RT 40, 20 mm, with slotted hole for M3 and knurled screw

STF 15

pin 15 - s. product information STF 15