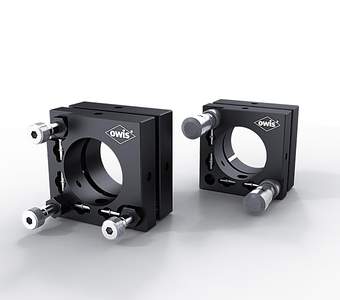 Transmitting Mounts, standard TRANS 40
OWIS Fine opto-mechanics
Description
In the standard version (ø 25 mm) of the transmitting mounts TRANS 40, both the fixed and the adjustable plate can retain mounted optics with 25 mm outside diameter.
The fixed plate of the ø 25.4 mm (1") version retains 25 mm mounted optics, the adjustable plate ø 25.4 mm (1") unmounted optics.
Apart from the choice between fine-thread screws and micrometers, an op­tional third adjustment screw permits the center of rotation to be shifted along the Z axis.
for use with SYS 40
deformation-resistant aluminium
reflection-poor, black anodized
with micrometers or fine thread screws in direction of optical axis
2 retainers for optics with ø 25 mm / ø 25.4 mm (1")
ways of installing
– on slide RT 40-20-R
– on slide RT 40-20-R-LL
– on pin
– on an optical table via adapter plate
Option- non-magnetic or vacuum-prepared versions available
| Art. Nbr. | Type | Title |
| --- | --- | --- |
| 26.204.2501 | TRANS 40-D25-FGS | transmitting mount for mounted ø 25 mm optics, with fine-thread screws |
| 26.204.2502 | TRANS 40-D25-MS | transmitting mount for mounted ø 25 mm optics, with micrometers |
| 26.204.2504 | TRANS 40-D25Z-FGS | transmitting mount for mounted ø 25 mm optics, with fine-thread screws and Z adjustment |
| 26.204.2505 | TRANS 40-D25Z-MS | transmitting mount for mounted ø 25 mm optics, with micrometers and Z adjustment |
| 26.204.2601 | TRANS 40-D26-FGS | transmitting mount for unmounted ø 25.4 mm (1") optics, with fine-thread screws |
| 26.204.2602 | TRANS 40-D26-MS | transmitting mount for unmounted ø 25.4 mm (1") optics, with micrometers |
| 26.204.2604 | TRANS 40-D26Z-FGS | transmitting mount for unmounted ø 25.4 mm (1") optics, with fine-thread screws and Z adjustment |
| 26.204.2605 | TRANS 40-D26Z-MS | transmitting mount for unmounted ø 25.4 mm (1") optics, with micrometers and Z adjustment |
| 26.105.9001 | FP-K50-LL | base plate with slotted hole, 45 x 30 x 7.5 mm |
| 14.021.0020 | RT 40-20-R | slide SYS 40, 20 mm, with knurled screw |
| 14.021.3020 | RT 40-20-R-LL | slide RT 40, 20 mm, with slotted hole for M3 and knurled screw |
| | STF 15 | pin 15 - s. product information STF 15 |