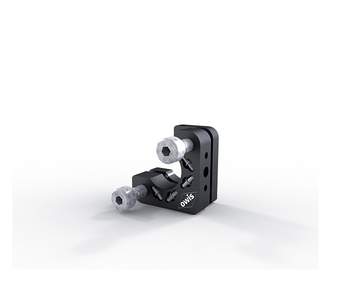 Transmitting Mounts, standard TRANS 25C
OWIS Fine opto-mechanics
Description
The transmitting mount TRANS 25C is used especially for transmitting and beamsplitting optics with 12.7 mm (½") diameter.
Because of the openings at the carrier- and clamping plate, the
light path can be directed close to the optic, in an angle or deflected.
The two fine-thread screws allow a sensitive adjustment.
To mount it on slides RT 25, the transmitting mount has M2.5 threaded holes. The M4 threaded hole is used to mount it on pins with the pin adapter STF 15-25-AM4-3. When mounted on system rails S 25 LL with slides RT 25, the height of the optical axis from 25 mm is guaranteed.
for use with SYS 25
deformation-resistant aluminium
reflection-poor, black anodized
theta-phi adjustment
ways of installing
- with M4 threaded hole
- on pin
- on a slide RT 25
Option
- non-magnetic or vacuum-prepared versions available
| Art. Nbr. | Type | Title |
| --- | --- | --- |
| 26.202.0131 | TRANS 25C-D13-FGS | transmitting mount with fine-thread screws |
| 12.021.0015 | RT 25-15-R | slide SYS 25, 15 mm, with knurled screw |
| 12.022.0015 | RT 25-15-M2,5 | slide RT 25, 15 mm, with hexagon socket head cap screw |
| 21.115.4325 | STF 15-25-AM4-3 | pin adapter M6-M4 |