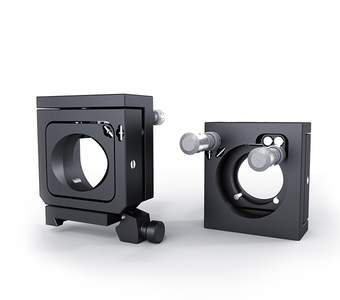 Transmitting Mounts, gimbal TRANS 50G
OWIS Fine opto-mechanics
Description
The TRANS 50G gimbal transmitting mounts have a compact design, are sensitive adjustable and insensitive for vibrations.
They are available with integrated slide for the rail system SYS 40 or with M6 tapped hole for column-pin combinations. The retainer diameter is 25 mm / 25.4 mm (1")
The transmitting mounts can be supplied with fine-thread screws or micrometers.
for use with SYS 40
deformation-resistant aluminium
reflection-poor, black anodized
sensitive adjustable
gimbal-mounted
compact design
retainer diameter 25 mm / ø 25.4 mm (1")
ways of installing
- using the central M6 threaded hole or the two M4 threaded holes
- for use with SYS 40 directly with the integrated slide version
Option
- non-magnetic versions available
| Art. Nbr. | Type | Title |
| --- | --- | --- |
| 26.305.0251 | TRANS 50G-D26-KFGS | transmitting mounts, gimbal, 25 mm /ø 25.4 mm (1"), for mounted and unmounted optics, with fine-thread screws |
| 26.305.0252 | TRANS 50G-D26-KMS | transmitting mounts, gimbal, 25 mm /ø 25.4 mm (1"), for mounted and unmounted optics, with micrometers |
| 14.271.2501 | TRANS 50G-D26-FGS-IRT40 | transmitting mounts, gimbal, with integrated RT 40 slide, 25 mm / ø 25.4 mm (1"), for mounted and unmounted optics, with fine-thread screws |
| 16.021.0020 | RT 65-20-R | slide SYS 65, 20 mm, with knurled screw |
| 16.022.0020 | RT 65-20-M4 | slide RT 65, 20 mm, with hexagon socket head cap screw |
| | STF 15 | pin 15 - s. product information STF 15 |