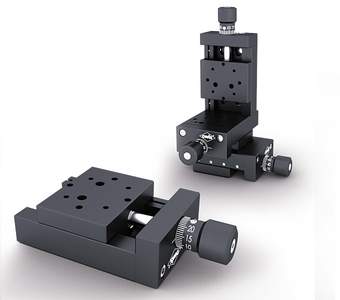 Translation Stages VT 45N
OWIS Fine opto-mechanics
Description
The VT 45N translation stages are for general applications. Not restricted to one system kit, they can be used for adjustment in classical optical setups with columns and pins as well as in fiber-optic applications. In addition, they are excellent for positioning CCD cameras and other opto-electronic sensors.
The VT 45N can be mounted along XY, XZ, and/or XYZ without mounting angle.
Fine-thread spindles with graduated button enable sensitive adjustment. The dovetail guides are adjustable and maintain their accuracy over a very long time.
XYZ mounting without additional Z bracket possible
deformation-resistant aluminium
reflection-poor, black anodized
with fine-thread spindle
cost-efficient application
way of installing:
- on optical table with adapter plate ADP 65-A
Option
- non-magnetic or vacuum-prepared versions available
| Art. Nbr. | Type | Title |
| --- | --- | --- |
| 31.041.2531 | VT 45N-25-X-SK | translation stages VT 45N, X, 25 mm travel, with fine-thread spindle |
| 31.041.2532 | VT 45N-25-XY-SK | translation stages VT 45N, XY, 25 mm travel, with fine-thread spindles |
| 31.041.2533 | VT 45N-25-XYZ-SK | translation stages VT 45N, XYZ, 25 mm travel, with fine-thread spindles |
| 41.045.0001 | MONT-LT(M) 45-Z | Z assembly bracket for linear stages of the VT 45N, LT 45, LTM 45, LTM 45M as well as LIMES 44 series |
| 24.900.6510 | ADP 65-A | adapter plate 65-A (65 x 60 x 10 mm), for vertical mounting of measuring and translation stages as well as TRANS 65G and TRANS 90G on optical tables with M6 bore grids. Also for mounting small moveable stages in a vertical position and for mounting XY and XYZ combinations. |