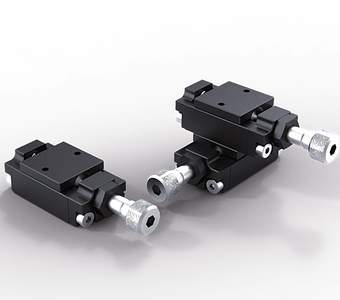 Translation Stages VT 14
OWIS Fine opto-mechanics
Description
The VT 14 miniature translation stages are suited for the adjustment or positioning of smallest parts or samples.
Due to the integrated dovetail guide, they can carry relatively high loads.
The feed motion is transmitted to the slide by means of a fine-thread screw with knurled head.
Spring preload on the opposite side enables backlash-free motion.
To mount the VT 14 on optical tables, an adapter plate is available.
miniature version
particularly flat assembly height
deformation-resistant aluminium
reflection-poor, black anodized
with fine-thread screw
high load capacity:
way of installing:
– on optical table with adapter plate ADP 65B
Option
- non-magnetic versions available
| Art. Nbr. | Type | Title |
| --- | --- | --- |
| 31.014.0001 | VT 14-5-X-FGS | translation stage with 5 mm travel in X version and fine-thread screw |
| 31.014.0002 | VT 14-5-XY-FGS | translation stage with 5 mm travel in XY version and fine-thread screws |
| 35.065.9000 | ADP 65B | adapter plate 65 x 35 x 7.5 mm |