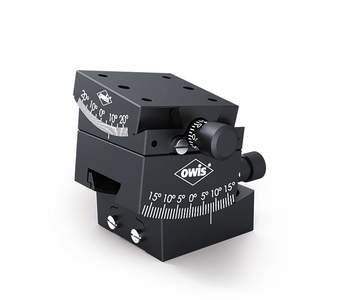 Theta-Phi Goniometers TP 65
OWIS Fine opto-mechanics
Description
The TP 65 theta-phi goniometers enable a precise adjustment with the help of precision worm gears and adjustable dovetail guides of ± 15° (GO 65S) resp. ± 20° (GO 40) around a defined optical point.
The center of rotation is 20 mm above the mounting surface, the free space created can be used for prisms, holders or other optics.
In order to reach the system height of the SYS 65, ADP 65B adapter plates are needed.
Motorized versions (step motor or DC servo motor) on request, see also chapter M of the catalogue.
for use with SYS 65
deformation-resistant aluminium
reflection-poor, black anodized
adjustable dovetail guides
way of installing 
-

on optical table with adapter plate ADP 65B
Option 
- vacuum-prepard versions available
| Art. Nbr. | Type | Title |
| --- | --- | --- |
| 35.465.3040 | TP 65-W30-W40 | theta-phi goniometers, adjustment range ± 15° and ± 20° |
| 35.065.9000 | ADP 65B | adapter plate 65 x 35 x 7.5 mm |