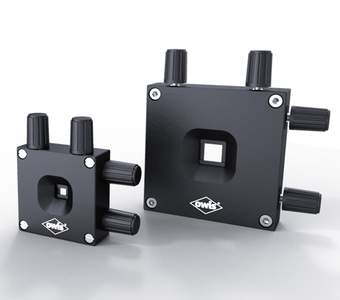 Slits SP 40, SP 60
OWIS Fine opto-mechanics
Description
The SP 40 and SP 60 slits have four independently adjustable lamellas. So any desired size and position of rectangular aperture may be defined. The maximum aperture of the SP 40 is 7 x 7 mm, of the SP 60
12 x 12 mm. To close them, it is necessary to move only one lamella.
The slit SP 40 can be integrated in SYS 40 with slides RT 40. Using the RT 65-25-R-H slide and the SP 60, the beam height of the SYS 65 is reached.
for use with SYS 40 resp. with SYS 65
deformation-resistant aluminium
reflection-poor, black anodized
independently adjustable lamellas
ways of installing
- on slide RT 40 resp. on slide RT 65-25-R-H
- on pin
Option
- non-magnetic or vacuum-prepared versions available
| Art. Nbr. | Type | Title |
| --- | --- | --- |
| 27.140.0707 | SP 40 | slits, max. aperture 7 x 7 mm |
| 27.160.1212 | SP 60 | slits, max. aperture 12 x 12 mm |
| 14.021.0020 | RT 40-20-R | slide SYS 40, 20 mm, with knurled screw |
| 14.022.0020 | RT 40-20-M3 | slide RT 40, 20 mm, with hexagon socket head cap screw |
| 16.021.2025 | RT 65-25-R-H | raised slide SYS 65, 25 mm, with knurled screw |
| 16.022.2025 | RT 65-25-M4-H | raised slide SYS 65, 25 mm, with hexagon socket head cap screw ISO 4762 |
|   | STF 15 | pin 15 - s. product information STF 15 |