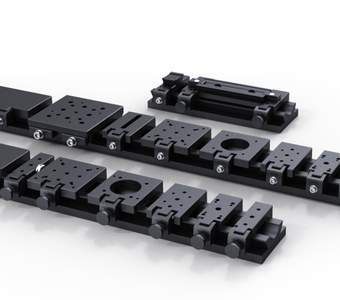 SYS 65 Slides RT 65
OWIS Fine opto-mechanics
Description
The RT 65 slides are equipped with tilting clamping pieces. The slides can be placed easily on the system rail
S 65 LL or on the S 65-4 4-side profile and fixed with the screw. The structure of the clamping pieces guarantees a high adhesion without consistant deformation of rail.
The slides RT 65 are available with knurled screw or with hexagon socket head cap screw ISO 4762.
body and clamping piece made of deformationresistant aluminium
reflection-poor, black anodized
with knurled or hexagon socket head cap screw
laminar clamping without consistant deformation of rail
adjustment remains stable during fixing
Option
- non-magnetic or vacuum-prepared versions available
| Art. Nbr. | Type | Title |
| --- | --- | --- |
| 16.021.0020 | RT 65-20-R | slide RT 65, 20 mm, with knurled screw |
| 16.022.0020 | RT 65-20-M4 | slide RT 65, 20 mm, with hexagon socket head cap screw ISO 4762 |
| 16.031.0020 | RT 65-20-R-Z | slide RT 65, 20 mm, for fine adjustment |
| 16.021.2025 | RT 65-25-R-H | raised slide RT 65, 25 mm wide, with knurled screw |
| 16.022.2025 | RT 65-25-M4-H | raised slide RT 65, 25 mm, with hexagon socket head cap screw ISO 4762 |
| 16.021.3028 | RT 65-28-R | slide RT 65, 28 mm, with knurled screw |
| 16.022.3028 | RT 65-28-M4-M6 | slide RT 65, 28 mm, with counterbore M6 and hexagon socket head cap screw ISO 4762 |
| 16.021.0035 | RT 65-35-R | slide RT 65, 35 mm, with knurled screw |
| 16.021.0040 | RT 65-40-R | slide RT 65, 40 mm, with knurled screw |
| 16.022.0040 | RT 65-40-M4 | slide RT 65, 40 mm, with hexagon socket head cap screw ISO 4762 |
| 16.021.3040 | RT 65-40-R-LL | slide RT 65, 40 mm, with slotted hole and knurled screw |
| 16.022.3040 | RT 65-40-M4-LL | slide RT 65, 40 mm, with slotted hole for M6 and hexagon socket head cap screw ISO 4762 |
| 16.021.1059 | RT 65-59-R | slide RT 65, 59 mm, with knurled screw |
| 16.021.0065 | RT 65-65-R | slide RT 65, 65 mm, with knurled screw |
| 16.022.0065 | RT 65-65-M4 | slide RT 65, 65 mm, with hexagon socket head cap screw ISO 4762 |
| 16.021.1065 | RT 65-65-R-D35 | slide RT 65, 65 mm, with aperture ø 35 mm, with knurled screw |
| 16.022.1065 | RT 65-35-M4-D35 | slide RT 65, 65 mm, with aperture ø 35 mm and hexagon socket head cap screw ISO 4762 |
| 16.024.0090 | RT 65-4-90-M6 | slide RT 65-4, 90 mm, with hexagon socket head cap screws ISO 4762 |
| 16.021.0200 | RT 65-200-R | experiment platform 65, 200 mm long, with knurled screws |
| 16.022.0200 | RT 65-200-M4 | experiment platform 65, 200 mm long, with hexagon socket head cap screws ISO 4762 |
| 16.091.4020 | RT 65-20-R-S40 | slide RT 65 with integrated system rail S 40, 20 mm long, with knurled screw |
| 16.092.4020 | RT 65-20-M4-S40 | slide RT 65 with integrated system rail S 40, 20 mm long, with hexagon socket head cap screw ISO 4762 |