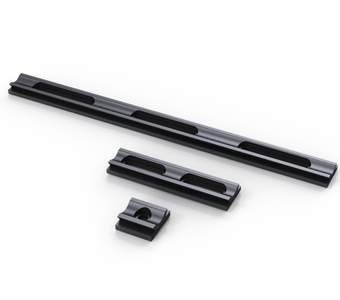 SYS 25 System Rails with slotted holes S 25 LL
OWIS Fine opto-mechanics
Description
The system rails S 25 LL are basic elements of the beam handling system SYS 25. They are available in standard lengths of 25 mm to 700 mm. The rails are made of deformation-resistant aluminium, precisely manufactured and reflection poor, black anodized.
The system rails, the slides and setup components of the SYS 25 system can be combined to stable and compact optical paths with an optical height of 25 mm.
Thanks to the slotted holes, the system rails S 25 LL can be mounted in almost any angle on the optical table. Thus, the variable handling required for optical setups is guaranteed.
system height 25 mm
suitable for metric and inch mounting grids
deformation-resistant aluminium
reflection-poor, black anodized
Options
- other lengths
- other anodized colours
- non-magnetic or vacuum-prepared versions available
| Art. Nbr. | Type | Title |
| --- | --- | --- |
| 12.011.0025 | S 25-25 | SYS 25 system rails with slotted holes, 25 mm |
| 12.011.0050 | S 25-50-LL | SYS 25 system rails with slotted holes, 50 mm |
| 12.011.0100 | S 25-100-LL | SYS 25 system rails with slotted holes, 100 mm |
| 12.011.0200 | S 25-200-LL | SYS 25 system rails with slotted holes, 200 mm |
| 12.011.0300 | S 25-300-LL | SYS 25 system rails with slotted holes, 300 mm |
| 12.011.0500 | S 25-500-LL | SYS 25 system rails with slotted holes, 500 mm |
| 12.011.0700 | S 25-700-LL | SYS 25 system rails with slotted holes, 700 mm |
| | Schrauben ISO 7380 M6 x 10 | screws ISO 7380 M6 x 10 are in the scope of delivery |