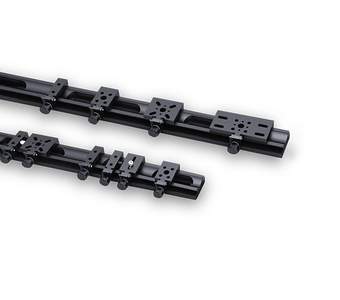 SYS 25 Slides RT 25
OWIS Fine opto-mechanics
Description
The RT 25 slides are used to mount assembling components on the system rail S 25 LL in order to provide the system height. The slides are equipped with the proven tilting clamping pieces. Thereby they can be placed easily also in existing setups on the system rails S 25 LL, too.
In order to fix the slides, a knurled or hexagon socket head cap screw is used. The form of the clamping pieces guarantees a high adhesion without consistant deformation of the rail.
Slides with lateral threaded hole for the slide with fine adjustment on request.
body and clamping piece made of deformationresistant aluminium
reflectionpoor, black anodized
with knurled or hexagon socket head cap screw
laminar clamping without consistant deformation of rail
adjustment remains stable during fixing
Option
- non-magnetic or vacuum-prepared versions available
| Art. Nbr. | Type | Title |
| --- | --- | --- |
| 12.021.0008 | RT 25-8-R | slide SYS 25, 8 mm, with knurled screw |
| 12.022.0008 | RT 25-8-M2,5 | slide SYS 25, 8 mm, with hexagon socket head cap screw ISO 4762 |
| 12.031.0008 | RT 25-8-R-Z | slide SYS 25 with knurled screw, 8 mm, for fine adjustment |
| 12.021.0009 | RT 25-9-ZM | two slides SYS 25, 9 mm, to mount KSH(M) 25 on S 25 LL, with knurled screws |
| 12.021.0015 | RT 25-15-R | slide SYS 25, 15 mm, with knurled screw |
| 12.022.0015 | RT 25-15-M2,5 | slide RT 25, 15 mm, with hexagon socket head cap screw |
| 12.021.3015 | RT 25-15-R-LL | slide SYS 25 with knurled screw, 15 mm, with slotted hole for M2.5 |
| 12.022.3015 | RT 25-15-M2,5-LL | slide SYS 25, with hexagon socket head cap screw ISO 4762, with slotted hole for M2.5 |
| 12.021.0025 | RT 25-25-R | slide SYS 25, 25 mm, with knurled screw |
| 12.022.0025 | RT 25-25-M2,5 | slide SYS 25, 25 mm, with hexagon socket head cap screw ISO 4762 |
| 12.021.0045 | RT 25-45-R | slide SYS 25, with knurled screw, 45 mm |
| 12.022.0045 | RT 25-45-M2,5 | slide SYS 25, with hexagon socket head cap screw ISO 4762, 45 mm |