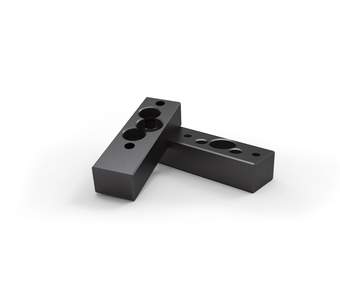 SYS 25-SYS 40-Adapterplatte
OWIS Fine opto-mechanics
Description
The adapter plates ADP-S40-S25-10 are used to fix SYS 25 components on RT 40 slides as well as to adapt
- by using two plates - the optical axes for a whole SYS 25 rail-slide-component combination to the beam height of the SYS 40.
The adapter plate ADP-S40-S25-10 is mounted between slide and optical component with the M2.5 screws which are part of delivery.
In order to adapt the height of a whole rails-slide-component, the rail is put on two adapter plates and fixed though the big hole in the plates with the M6 screw on the optical table.
The needed screws are part of delivery.
deformation-resistant aluminium
reflection poor, black anodized
to adapt the optical axes
ways of installing
- on RT 40 - on optical tables
Option
- non-magnetic or vacuum-prepared versions available
| Art. Nbr. | Type | Title |
| --- | --- | --- |
| 14.900.0002 | ADP-S40-S25-10 | for SYS 25 components in SYS 40 |
| 14.021.0010 | RT 40-10-R | slide SYS 40, 10 mm, with knurled screw |
| 14.022.0010 | RT 40-10-M3 | slide SYS 40, 10 mm wide, with hexagon socket head cap screw ISO 4762 |
| | S 25 LL | SYS 25 System Rails with slotted holes - s. product info S 25 LL |