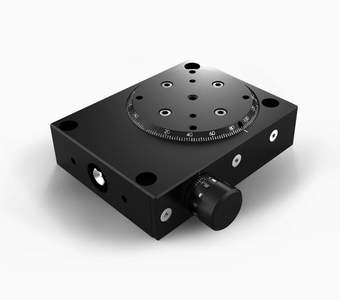 Rotary Stages DT 65
OWIS Fine opto-mechanics
Description
The DT 65 rotary stages provide unlimited angle of rotation at resolutions of less than one angular minute. They are suitable for both horizontal and vertical rotational axes.
The precision ball bearings and the worm gear are preloaded.
The DT 65 rotary stages are for use with SYS 65 and also available with different motorization as DMT 65.
for use with SYS 65
deformation-resistant aluminium, black anodized
precision bearings
nearly backlash-free worm gear (gear ratio 180:1)
rotary table with
- M4 central thread
- M6 central thread
- ø 25 mm retainer and aperture
- ø 35 mm retainer and ø 28.5 mm aperture
ways of installing 
- on slide
Option
- vacuum-prepared versions available
| Art. Nr. | Type | Title |
| --- | --- | --- |
| 33.065.0450 | DT 65-M4 | rotary stages, rotary table without aperture, with M4 thread |
| 33.065.0650 | DT 65-M6 | rotary stages, rotary table without aperture, with M6 thread |
| 33.065.2550 | DT 65-D25 | rotary stages, rotary table with ø 25 mm retainer and aperture |
| 33.065.3550 | DT 65-D35 | rotary stages, rotary table with ø 35 mm retainer, ø 28.5 mm aperture |
| 16.021.0020 | RT 65-20-R | slide RT 65, 20 mm, with knurled screw |