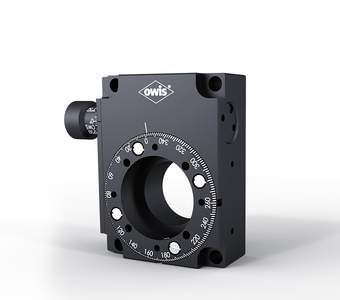 Rotary Stages DT 40
OWIS Fine opto-mechanics
Description
The rotary stages DT 40 provide unlimited angle of rotation. The resolution for manual adjustment is about 1/100 of a degree. They are equipped with a precision worm gear drive and a zero-backlash preloaded rolling bearing.
The DT 40 are suitable primarily for rotating optical elements in SYS 40.
Beside the manual version, the DMT 40 are also available with gear motor (DC servo or 2-phase step motor).
for use with SYS 40
deformation-resistant aluminium
reflection-poor, black anodized
precision bearings
nearly zero-backlash worm gear (reduction ratio 90:1)
rotary table with ø 25 mm retainer and ø 20 mm aperture
ways of installing 
- on slide 
- on pin
Option
- vacuum-prepared versions available
| Art. Nr. | Type | Title |
| --- | --- | --- |
| 33.040.2550 | DT 40-D25 | rotary stages DT 40, rotary table with ø 25 mm retainer and ø 20 mm aperture |
| 14.021.0020 | RT 40-20-R | slide SYS 40, 20 mm, with knurled screw |
|   | STF 15 | pin 15 - s. product information STF 15 |