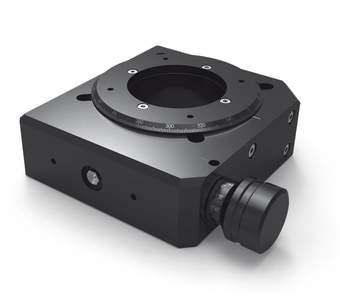 Rotary Stages DT 100
OWIS Fine opto-mechanics
Description
The DT 100 rotary stages have a preloaded worm gear drive with a gear ratio of 180:1.
In spite of their compact external dimensions, they can bear large loads both in axial and radial direction.
These rotary stages have a large aperture of 53 mm.
Beside the manual version, the DMT 100 are also available with gear motor (DC servo or 2-phase step motor).
deformation-resistant aluminium
reflection-poor, black anodized
precision angular-contact ball bearings
with clamping
nearly backlash-free worm gear (gear ratio 180:1)
rotary table with retainer and aperture of ø 53 mm
ways of installing
– on optical tables and measuring as well as translation stages with MP-D(M)T 100-WV 100
Option
- vacuum-prepared versions available
Art. Nr.
Type
Title
33.100.0050
DT 100-D50

rotary stage DT 100, rotary table with ø 53 mm retainer and aperture

33.085.9000
ADP-DV85-DT100-M4

adapter plates for mounting MT 45, MT 60

and VT 45 with M4 threaded hole

33.085.9002
ADP-DV85-DT100-M6

adapter plates for mounting MT 45, MT 60

and VT 45, with M6 threaded hole