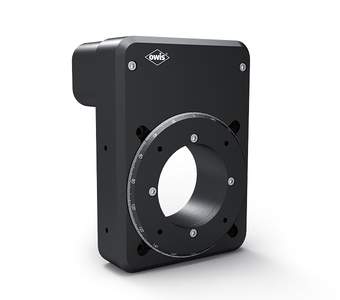 Rotary Stages DRTM 90
OWIS Fine opto-mechanics
Description
The tooth belt driven DRTM 90 rotary stages allow a much higher speed of rotation in comparison to the DMT series, but with less resolution.
They are suitable for both horizontal and vertical rotation axes. The precision ball bearing and the preloaded belt drives allow nearly backlash-free positioning.
The DRTM 90 are available with different motorizations and have an integrated Hall-effect reference switch.
All aluminium parts have a top quality black anodized protective coating.
deformation-resistant aluminium
reflection-poor, black anodized
precision angular-contact ball bearings
synchronous tooth belt drive
rotary table with aperture ø 53 mm
Hall-effect reference switch
2-phase step motor or DC motor with encoder
with OWISid
Option
- vacuum-prepared versions available
Art. Nbr.
Type
Title
44.090.53AC
DRTM 90-D53-HiSM

rotary stage with ø 53 mm aperture in rotary table,
2-phase step motor and Hall-effect reference switch

44.090.53GF
DRTM 90-D53-HiDS

rotary stage with ø 53 mm aperture in rotary table,
DC servo motor with encoder and Hall-effect reference switch