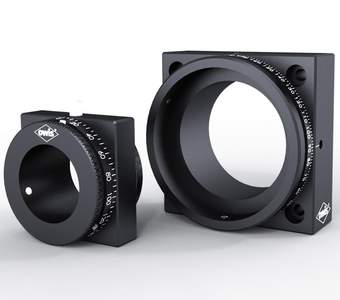 Rotary Mounts DOH 40, DOH 65
OWIS Fine opto-mechanics
Description
The DOH 40 and DOH 65 rotary mounts are designed for assem­bling such components as polarisers, retardation plates, etc. The outer ring of the DOH 40 has a scale with 5° graduations, the DOH 65 with 2° graduations. The DOH 40 rotary mounts are available with 25 mm location diameter or 25.4 mm (1"). The DOH 65 have a location diameter of 56 mm. The mounted components are fixed with grub screws.
Both rotary mounts can be mounted on pins STF 15 with M6 threads and are compatible to SYS 40 and SYS 65 respectively.
The insert for rotary mounts, EINS DOH 65-D56 is available as an accessory. Using it, the DOH 65 have a mounting surface for superstructural parts.
for use with SYS 40 or SYS 65
deformation-resistant aluminium
reflection-poor, black anodized
with scale
lockable
ways of installing
- on slide RT 40 or RT 65
- on pin
| Art. Nbr. | Type | Title |
| --- | --- | --- |
| 14.410.2500 | DOH 40-D25 | rotary mounts for ø 25 mm |
| 14.410.2600 | DOH 40-D26 | rotary mounts for ø 25 mm / 25,4 mm (1") |
| 16.410.5600 | DOH 65-D56 | rotary mounts for ø 56 mm |
| 14.021.0020 | RT 40-20-R | slide SYS 40, 20 mm, with knurled screw |
| 14.021.3020 | RT 40-20-R-LL | slide RT 40, 20 mm, with slotted hole for M3 and knurled screw |
| 16.021.0020 | RT 65-20-R | slide SYS 65, 20 mm, with knurled screw |
| 16.021.3040 | RT 65-40-R-LL | slide SYS 65, 40 mm, with slotted hole for M3 and knurled screw |
| 16.764.5603 | EINS DOH 65-D56 | insert ø 56 x 10.2 mm, for DOH 65 rotary mount |
| | STF 15 | pin 15 - s. product information STF 15 |