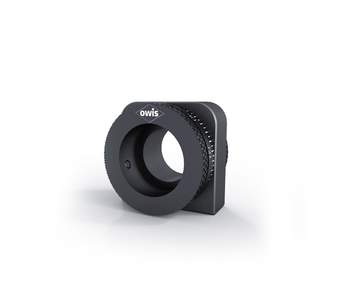 Rotary Mounts DOH 25
OWIS Fine opto-mechanics
Description
The DOH 25 rotary mounts admit like the proven DOH 40 and DOH 65 mounted optics such as retardation plates and polarisators with a maximum thickness of 8 mm, in order to rotate these over 360° and to fix the adjusted position with a grub screw. To make the adjusting of optics easier the DOH 25 have a scale with 5° partition.
To mount them on slides RT 25, the rotary mounts have M2.5 threaded holes. Additionally, all holders have a M4 thread to put them on a pin.
When mounted on system rails S 25 LL with slides RT 25, the 25 mm height of the optical axis is guaranteed.
for use with SYS 25
deformation-resistant aluminium
reflection-poor, black anodized
ø 16 mm retainer, ø 13 mm aperture
ways of installing
- on slide RT 25
- on pin
Option
- vacuum-prepared versions available
| Art. Nbr. | Type | Title |
| --- | --- | --- |
| 12.410.1600 | DOH 25-D16 | rotary mounts, for mounted optics ø 16 mm |
| 12.021.0015 | RT 25-15-R | slide SYS 25, 15 mm, with knurled screw |
| 12.022.0015 | RT 25-15-M2,5 | slide RT 25, 15 mm, with hexagon socket head cap screw |
| 21.115.4325 | STF 15-25-AM4-3 | pin adapter M6-M4 |