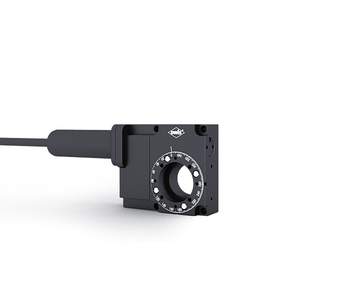 Rotary Measuring Stages DMT 40
OWIS Fine opto-mechanics
Description
The DMT 40 rotary measuring stages allow unlimited rotation angles at resolutions of less than one angular minute. They are suitable for horizontal and vertical rotational axes.
The precision ball bearings and the worm gear are backlash-free.
With slide RT 40-20, the DMT 40 rotary measuring stages are for use with SYS 40. They are available with different motorizations.
All aluminium parts have a top quality black anodized protective coating.
for use with SYS 40
deformation-resistant aluminium
reflection-poor, black anodized
precision angular contact ball bearings
preloaded worm gear
rotary table with aperture
Hall-effect reference Switch

2-phase geared step motor or DC geared motor with encoder

with OWISid
Option
- vacuum-prepared versions available
| Art. Nbr. | Type | Title |
| --- | --- | --- |
| 43.040.25AK | DMT 40-D20-HiSM | rotary measuring stage, with ø 25 mm retainer and ø 20 mm aperture, step motor and Hall-effect reference switch |
| 43.040.25GP | DMT 40-D20-HiDS | rotary measuring stage, with ø 25 mm retainer and ø 20 mm aperture, DC geared motor with encoder and Hall-effect reference switch |
| 43.040.M001 | MP 40-34/50-HO | mounting plate for vertical or horizontal mounting |
| 14.021.0020 | RT 40-20-R | slide SYS 40, 20 mm, with knurled screw |
| 14.022.0020 | RT 40-20-M3 | slide RT 40, 20 mm, with hexagon socket head cap screw |
| | G | mounts for slack optics - s. product info G |
| | EINS, FASE 40 | reduction and fibre adapters - s. product info EINSR FASE 40 |
| 90.999.0008 | SST.F8 | grease for gears, 5 ml, in applicator |