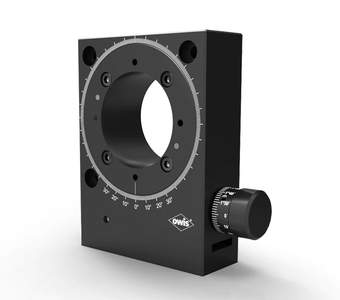 Rotary Adjustment Stages DV 65
OWIS Fine opto-mechanics
Description
The rotary adjustment stage DV 65 allows an unlimited rotation like the DT 65, however not quite backlash-free.
The large aperture of ø 37 mm allows the users to retain large optics using special adapters. Other adapter plates are available for mounting translation or measuring stages on the DV 65.
The worm gear is not preloaded, its drive shaft can be uncoupled for fast and rough adjustment. The adjustment sensitivity is lower than 100 µrad.
The dimensions of the DV 65 are compatible with the system SYS 65.
for use with SYS 65
for vertical and horizontal use
adjustment range > 360°
small height
good rotation property
interesting cost/performance ratio
deformation-resistant aluminium, black anodized
ways of installing
- on slide 
- on pin
| Art. Nr. | Type | Title |
| --- | --- | --- |
| 33.065.3750 | DV 65-D37 | rotary adjustment stage without retainer, ø 37 mm aperture |
| 16.021.0020 | RT 65-20-R | slide SYS 65, 20 mm, with knurled screw |
|   | STF 15 | pin 15 - s. product information STF 15 |