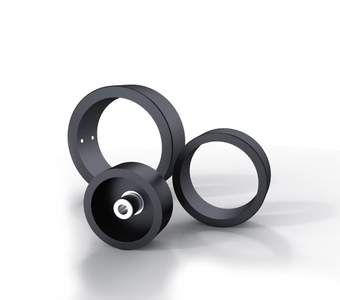 Reduction Inserts and Fibre Adapters EINSR, FASE 40
OWIS Fine opto-mechanics
Description
This EINSR reduction inserts are for holding mounted optical components. They are supplied with internal threads for microscope objectives (RMS) and camera objectives (C-mount), or with a plane bore. The inserts have outside diameters of 25 mm up to 56 mm, and are suitable for mounting plates, cubes, transmitting mounts etc.
The FASE 40 fibre adapters have an outside diameter of 25 mm. They are for retaining fibres with SMA or FC adapter.
Other diameters are available on request.
for use with SYS 40 or SYS 65
deformation-resistant aluminium
reflection-poor, black anodized
easy mount for microscope and camera objectives
Option
- non-magnetic or vacuum-prepared versions available
| Art. Nbr. | Type | Title |
| --- | --- | --- |
| 14.711.2500 | EINSR-D25/0 | reduction insert, external ø 25, without bore |
| 14.711.2501 | EINSR-D25/RMS | reduction insert, external ø 25 mm to RMS |
| 14.711.2513 | EINSR-D25/12,7 | reduction insert, external ø 25 mm to ø 12,7 mm |
| 14.711.3002 | EINSR-D30/C-M | reduction insert, external ø 30 mm to C-mount |
| 14.711.3025 | EINSR-D30/25 | reduction insert, external ø 30 mm to ø 25 mm |
| 16.711.3502 | EINSR-D35/C-M | reduction insert, external ø 35 mm to C-Mount |
| 16.711.3525 | EINSR-D35/25 | reduction insert, external ø 35 mm to ø 25 mm |
| 16.711.4500 | EINSR-D45/0 | reduction insert, external ø 45, without bore |
| 16.711.4530 | EINSR-D45/30 | reduction insert, external ø 45 mm to ø 30 mm |
| 16.711.4535 | EINSR-D45/35 | reduction insert, external ø 45 mm to ø 35 mm |
| 16.711.5600 | EINSR-D56/0 | reduction insert, external ø 56, without bore |
| 16.711.5625 | EINSR-D56/25 | reduction insert, external ø 56 mm to ø 25 mm |
| 16.711.5635 | EINSR-D56/35 | reduction insert, external ø 56 mm to ø 35 mm |
| 16.711.5645 | EINSR-D56/56 | reduction insert, external ø 56 mm to ø 45 mm |
| 14.521.2501 | FASE 40-D25-SMA | SMA fibre adapter in ø 25 mm mount |
| 14.521.2502 | FASE 40-D25-FC | FC fibre adapter in ø 25 mm mount |
| | EINSR, FASE 40 | Other dimensions on request |