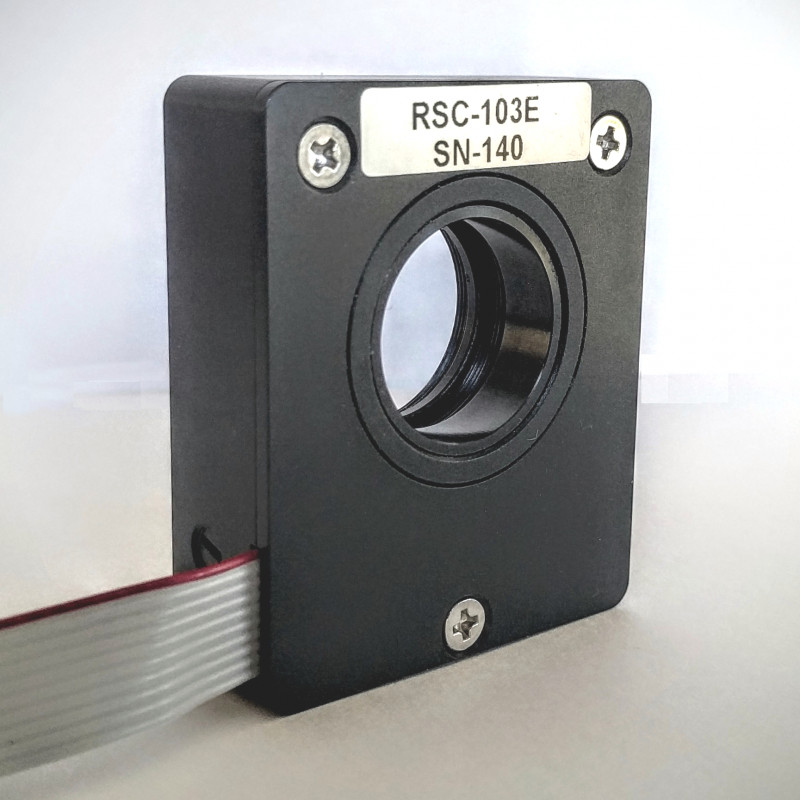 RSC-103E
Available In Stock
Compact motorized optical polarization rotator - $895.00 -
Special motorized and electronics
Description
A polarization rotator or a waveplate rotator is a mechanical device that rotates a polarizer filter or an optical wave plate.
The motorized optical polarizer acts like a filter that allows transmittance of linearly polarized light only along its polarization axis and reduces the intensity of transmitted light according to
 .
The optical waveplate shifts the polarization of linearly polarized light with little or no loss of intensity.
Motorized polarization rotators or wave plate rotators are commonly used in applications involving optics and lasers.
The RSC-103E motorized rotator allows very precise, continuous and smooth adjustment of the rotation angle from a computer or another electronic programmable machine.
- Miniature rotational stage
- 1" clear aperture.
- 360deg continuous rotation
- 3240 steps per rotation
- Up to 60 rpm
- Stepper Servo driven
- Optics is held with a ring with thread 1.035-40
- Optics thickness up to 7mm
- Reference Hall effect switch
- Internal Optical Encoder feedback from the moving platform
Similar products                         Related products      
      RSC-104E                                        
      RSC-116E