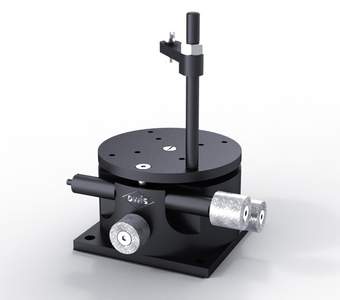 Prism Stages PR 60
OWIS Fine opto-mechanics
Description
The prism stages PR 60 have a very low table height. Its square base plate can be mounted on measuring and translation stages.
For mounting on optical table remove the base plate and fasten the prism stage on the mounting plate MP 120M with M4 screws via the 34 x 34 mm grid.
The clamping device of the prism stage is scope of delivery.
deformation-resistant aluminium
reflection-poor, black anodized
compact design
3D adjustment; 2 tilting axes and 1 rotation axis
adjustment screws below optical axis
fine-thread spindles
with clamping device
ways of installing
- on measuring and translation stages with base plate
- on optical tables with mounting plate MP 120M
| Art. Nbr. | Type | Title |
| --- | --- | --- |
| 26.606.0000 | PR 60-D60-BP | prism stages with base plate 60 x 60 mm and fine-thread spindles |
| 26.606.0001 | PR-KLV | clamping device for prisms |
| 31.999.0120 | MP 120M | Mounting plates MP 120/170 (120 x 70 x 8 mm) for mounting measuring and translation stages as well as other OWIS components up to 90 or 140 mm in width on optical tables or grid plates with M6 threaded holes. The spacing between the holes is 100 mm. |