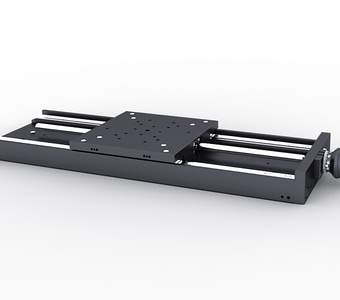 Precision Linear Stages LT 120
OWIS Fine opto-mechanics
Description
The economically priced linear stages of the series LT 120 are the appropriate choice for both R&D and industrial applications.
The special guidance provides a virtually slip-stick free motion as well as a high load capacity. The material combination of spindle and nut ensures low wear and tear as well as long life time.
It is possible to sensitively adjust the breaking force of the clamping element up to the complete fixing of the fine-thread spindle without displacing the spindle.
All aluminium parts have a top-quality black anodized protective coating.
travel 90 mm, 140 mm, 240 mm, 300 mm or 400 mm
designed for industrial applications
deformation-resistant aluminium
reflection-poor, black anodized
fine-thread spindle with low backlash
carriage with ground and stainless recirculating ball bearing guides
fixing device for the slide
XY, XZ or XYZ-mounting possible
Option 
- non-magnetic and vacuum-prepared versions available
Art. Nbr.
Type
Title
31.121.0931
LT 120-90

precision linear stage, 90 mm travel

31.121.1431
LT 120-140

precision linear stage, 140 mm travel

31.121.2431
LT 120-240

precision linear stage, 240 mm travel

31.121.3031
LT 120-300

precision linear stage, 300 mm travel

31.121.4031
LT 120-400

precision linear stage, 400 mm travel

41.123.0001
MONT-LT(M) 120-Z

Z assembly bracket, for LT 120, LTM 120, LTM 120F and M, LIMES 122, LIMES 124
and NHL 124, without assembly

41.N29.0005
MONT-L120-Z-K

Z Assembly Bracket Short for LT(M) 120 (F/M/P), LIMES 124N(-IMS), without assembly

41.083.0004
MONT-LT(M)-XY

XY assembly kit for LT, LTM and LIMES, without assembly, not for


P version

41.083.0014
MZB-LT(M)-XY-MM

XY assembly kit for LT, LTM and LIMES, incl. assembly, not for


P version