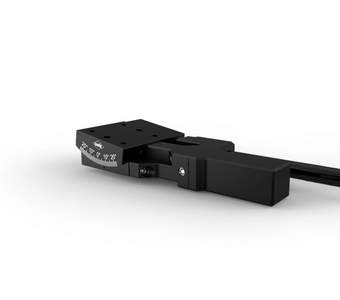 Precision Goniometer MOGO 40-16-33
OWIS Fine opto-mechanics
Description
The MOGO 40 goniometers allow a precise adjustment on a circular arc by means of a precision worm gear drive and adjustabl dovetail guide.
The rotation axis is 20 mm above the mounting surface of the MOGO 40. The created free space can be used for prisms, mounting plates or other optics.
In order to integrate the goniometers into the SYS 40 system, the adapter plates ADP 60-A, or into SYS 65 system the slides RT 65-40-R are necessary. To gain theta-phi combinations MOGO 40 can be mounted onto MOGO 65-40-65.
All aluminium parts have a top quality black anodized protective coating.
with adapter plate for use with SYS 40
with slide for use with SYS 65
deformation-resistant aluminium
reflection-poor, black anodized
nearly backlash-free dovetail guides 
2-phase step motor with gear or DC servo motor with encoder and gear
| Art. Nbr. | Type | Title |
| --- | --- | --- |
| 45.A40.16AA | MOGO 40-16-33-HiSM | Präzisions-Goniometer mit ± 8° Schwenkbereich, 2-Phasen-Getriebeschrittmotor und Hall-Effekt-Endschaltern |
| 45.A40.16BA | MOGO 40-16-33-MiSM | Precision Goniometer with ± 8° adjustment range, 2-phase geared step motor and mechanical limit switches |
| 45.A40.16GA | MOGO 40-16-33-HiDS | Precision Goniometer with ± 8° adjustment range, DC geared motor with encoder and Hall-effect limit switches |
| 45.A40.16WA | MOGO 40-16-33-MiDS | Precision Goniometer with ± 8° adjustment range, DC geared motor with encoder and mechanical limit switches |
| 16.021.0040 | RT 65-40-R | slide RT 65, 40 mm, with knurled screw |
| 24.900.6010 | ADP 60-A | adapter plate 60-A (60 x 60 x 7.5 mm), for mounting SYS 40 and SYS 65 components, VT 45 translation stages, and MT 45 and 50 measuring stages on 50 mm 4 x M4 bore grids. |
| 90.999.0001 | SST.F1 | grease for guides, 5 ml, in applicator |
| 90.999.0005 | SST.F5 | grease for guides, 5 ml in applicator |