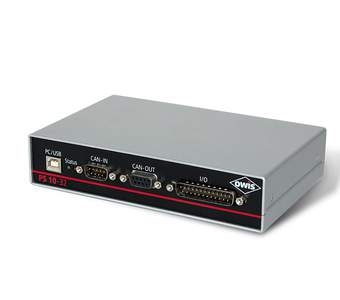 Position Control Units PS 10
OWIS Fine opto-mechanics
Description
The PS 10 is a single-axis control unit which is configured for 2-phase step motors or DC servo motors.
With a network, which is based on CANbus system, several PS 10 can be operated together. Thus, a multipoint connection with a high transfer rate up to 32 devices is possible.
Micro-step mode with step motors via software guarantees smooth running and high resolution. Using this adjustment, a motor activity up to 128 micro steps per full step is possible.
A lot of in- and outputs like TTL, analogue and SPS are implemented for communication with different peripherals.
PS 10 for DC servo motor supports the complete A/B-Index, as well as TTL encoder signals up to a bandwidth of 7.5 MHz.
A point-to-point operation with a triangular or trapezoidal velocity profile is possible with the PS 10.
Part of delivery is an USB cable, a CD with the proven software tool OWISoft, the driver and SDK for C, C++, C#, LabView (V 8.2 and higher) and additional programming languages (32/64 bit). Thus, the PS 10 can be configured and operated comfortably.
Supported operating systems: Windows XP, Windows Vista (32/64 bit), Windows 7 (32/64 bit), Windows 8 (32/64 bit), Windows 8.1 (32/64 bit) and Windows 10 (32/64-Bit).
For power supply an external desktop power supply is required attached in accessories.
Foreign motors can also be operated.
single-axis control
for 2-phase step motors or DC servo motors
micro step mode up to 1/128
USB interface
4 TTL and 4 analog inputs
1 TTL and 4 SPS outputs (2 SPS outputs configurable as PWM)
point-to-point operation
programmable velocity profile
connection for motor break
crosslinking via bus interface
| Art. Nbr. | Type | Title |
| --- | --- | --- |
| 55.10.2432 | PS 10-32-SM | control unit for 2-phase step motor with multipoint circuit |
| 55.11.2432 | PS 10-32-DC | control unit for DC servo motor with multipoint circuit |
| 53.20.S300 | KAB-09-HD15-3 | connecting cable 3 m long, shielded, for 2-phase step motor up to 1.8 A |
| 53.20.D301 | KAB-09-HD26-3 | connecting cable 3 m, shielded, for DC servo motor (brush) up to 3.6 A |
| 54.35.2490 | NT-2490-SV | external desktop power supply unit for power supply of the controls PS 10, PS 30 and PS 35 |
| 51.450.2000 | KAB-09-DS9-2 | connecting cable 2 m long for PS 10-32 |
| 55.32.0202 | PS 10-VK-24-02 | connecting cable 2 m long for power supply from PS 10-32 to PS 10-32 |
| 55.32.0902 | PS 10-32WID | terminating connectors (1 x male, 1 x female) for bus system of PS 10-32 |