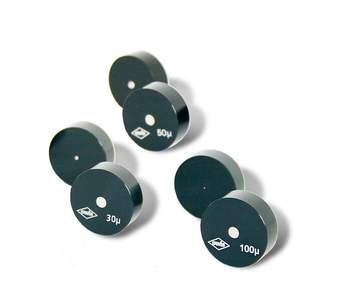 Pinholes LB/Drilled Apertures TB
OWIS Fine opto-mechanics
Description
The pinholes LB have a ø 5 mm platinum-iridium plate in a ø 25 mm mount. The apeture from 5 µm up to 80 µm is centered. Other apertures are available on request.
If there are applications where a bigger aperture is needed OWIS® offers the drilled apertures. The outer diameter is ø 25 mm, too.
Drilled apertures as well as pinholes can be set in all holders and adjustments for ø 25 mm mounted optics.
All aluminium parts have a top quality black anodized protective coating.
Drilled apertures up to 5000 µm aperture on request.
centered
mountable in OH 40-D25
pinholes with aperture from 5 µm up to 80 µm
drilled apertures with aperture from 500 µm up to 4000 µm
| Art. Nbr. | Type | Title |
| --- | --- | --- |
| 62.610.0005 | LB 5-D5-G25 | pinhole with ø 25 mm and 5 µm aperture |
| 62.610.0030 | LB 30-D5-G25 | pinholes with ø 25 mm and 30 μm aperture |
| 62.610.0080 | LB 80-D5-G25 | pinhole with ø 25 mm and 80 µm aperture |
| 62.620.0500 | TB-B05-G25 | drilled apertures with ø 25 mm and 500 μm aperture |
| 62.620.0700 | TB-B07-G25 | drilled apertures with ø 25 mm and 700 μm aperture |
| 62.620.0800 | TB-B08-G25 | drilled apertures with ø 25 mm and 800 μm aperture |
| 62.620.1000 | TB-B10-G25 | drilled apertures with ø 25 mm and 1000 μm aperture |
| 62.620.2000 | TB-B20-G25 | drilled apertures with ø 25 mm and 2000 μm aperture |
| 62.620.4000 | TB-B40-G25 | drilled apertures with ø 25 mm and 4000 μm aperture |