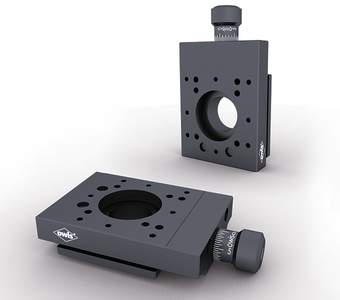 Non-Magnetic Miniature Translation Stages MVT 40B-Z-UM
OWIS Fine opto-mechanics
Description
The MVT 40B-Z-UM non-magnetic miniature translation stages consist like the MKT 40B-UM non-magnetic miniature XY stages of materials with a permeability smaller than 1.01. Using these stages, non-magnetic XYZ setups can be realized, too.
The unit sizes of the tables correspond to the MVT 40B-Z. They are available both with and without end plate.
The dovetail guides maintain their accuracy over very long time and the fine-thread spindle with the scale button enables a sensitive adjustment.
non-magnetic
for use with SYS 40
deformation-resistant aluminium
reflection-poor, black anodized
travel 6 mm
aperture ø 15 mm
ways of installing
- on slide 
- on pin
Option 
- vacuum-prepared versions available
Art. Nbr.
Type
Title
14.341.3300
MVT 40B-Z-FGS-UM

non-magnetic miniature translation stages

with fine-thread screw without end plate

14.341.3330
MVT 40B-Z-FGS-EP-UM

non-magnetic miniature translation stages

with fine-thread screw with end plate