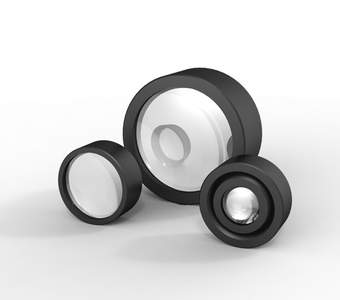 Mounts for Slack Optics G
OWIS Fine opto-mechanics
Description
The internal and the external diameters of G mounts for slack optics are adapted to the optical elements and the optic holders. They serve the protection and the clear marking of the optics and furthermore, allow the repeatability of the assembly.
Some mounts are stepped in order to retain optics with metric diameters as well as with inch diameters.
All mounts with step will be delivered with clamping ring without step.
for optics with ø 8 mm up to 50.8 mm
reflection-poor, black anodized
Option
- non-magnetic versions available
| Art. Nbr. | Type | Title |
| --- | --- | --- |
| 69.911.1008 | G 16-8-D10 | mounts ø 16 x 8 mm, for slack optics 10.0/⅜", with clamping ring |
| 69.911.1308 | G 16-9-D13 | mounts ø 16 x 8 mm, for slack optics, 12.5/0.5" with clamping ring |
| 69.912.0810 | G 25-10-D8 | mounts ø 25 x 10 mm, for slack optics ø 8 mm, with clamping ring |
| 69.912.1310 | G 25-10-D12 | mounts ø 25 x 10 mm, for slack optics ø 12,5 mm / 12,7 mm (0,5"), with clamping ring |
| 69.912.1510 | G 25-10-D15 | mounts ø 25 x 10 mm, for slack optics n ø 15 mm, with clamping ring |
| 69.912.2210 | G 25-10-D22 | mounts ø 25 x 10 mm, for slack optics ø 22.4 mm, with clamping ring |
| 69.913.2510 | G 30-10-D25 | mounts ø 30 x 10 mm, for slack optics ø 25 mm / 25,4 mm (1"), with clamping ring |
| 69.913.2513 | G 35-13-D25 | mounts ø 35 x 12.5 mm, for slack optics ø 25 mm / 25,4 mm (1"), with clamping ring |
| 69.913.3213 | G 35-13-D32 | mounts ø 35 x 12.5 mm, for slack optics ø 31.5 mm, with clamping ring |
| 69.914.4020 | G 45-20-D40 | mounts ø 45 x 20 mm, for slack optics ø 40 mm / 38.1 mm (1.5"), with clamping ring |
| 69.915.5020 | G 56-20-D50 | mounts ø 56 x 20 mm, for slack optics ø 50 mm / 50,8 mm (2"), with clamping ring |
| 69.951.1308 | VSR M14-D13 | clamping ring for G 16-8-D13 |
| 69.951.1008 | VSR M14-D10 | clamping ring for G 16-8-D10 |
| 69.952.1310 | VSR M23-D12 | clamping ring for G 25-10-D12 |
| 69.952.0810 | VSR M23-D8 | clamping ring for G 25-10-D8 |
| 69.952.1510 | VSR M23-D15 | clamping ring for G 25-10-D15 |
| 69.952.2210 | VSR M23-D22 | clamping ring for G 25-10-D22 |
| 69.953.2510 | VSR M28-D25 | clamping ring for G 30-10-D25 und G 35-13-D25 |
| 69.953.3213 | VSR M33-D33 | clamping ring for G 35-13-D32 |
| 69.954.4020 | VSR M42-D40 | clamping ring for G45-20-D40 |
| 69.955.5020 | VSR M53-D50 | clamping ring for G 56-20-D50 |