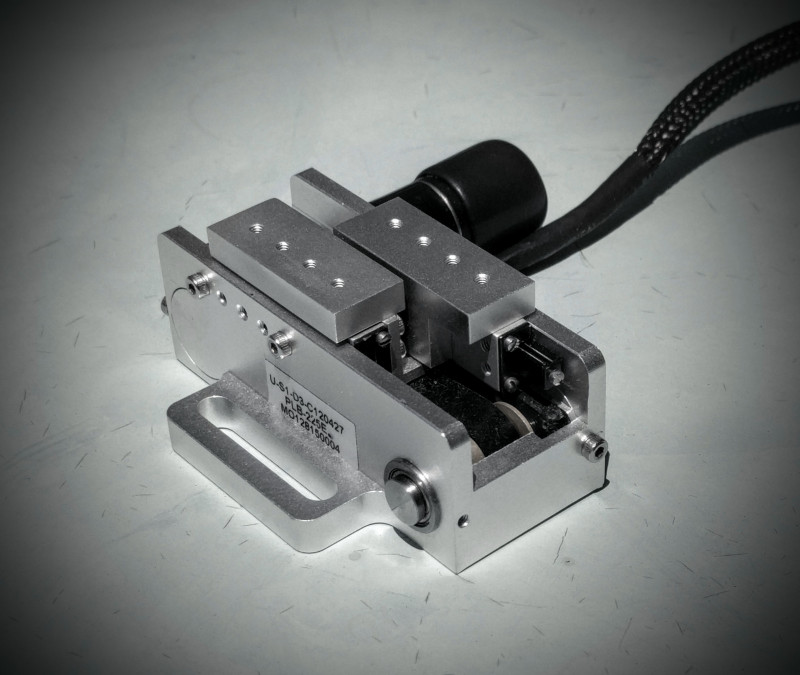 PLB-225E
Available In Stock
Motorized - Contrary motion - Two moving platforms - from $850.00 -
Special motorized and electronics
Description
Miniature Linear Motion Stage with 2 contrary moving platforms.
- Each moving platform maximum 25mm travel.
- Two phase bipolar Stepper motor with 29:1 gear head
- Belt-drive mechanism with the moving platforms supported on linear bearings.
- Magnetic encoder with 1025 counts per rotation.
- Bi-directional repeatability: ~ 10microns
- Minimum increment: ~ 10microns
- Maximum rated speed: 10mm/sec
- Maximum normal load: 200g
- Each moving platform has a grid with four threaded holes ( #8-32).
- The moving platforms width is 12mm.
- Straight line accuracy of 12microns per inch.
Applications:
                      Motorized variable / adjustable optical slit 
                    Newton's 2 prism optics experiment
Similar products                         Related products