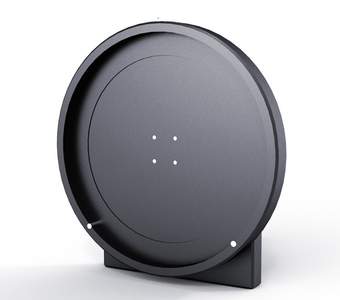 Mirror Mounts, kinematic K 100
OWIS Fine opto-mechanics
Description
The K 100 kinematic mirror mounts are delivered for circular mirrors in three different sizes: ø 101.6 mm (4"),
ø 127 mm (5") and ø 152.4 mm (6"). The mirror holders are intended to retain the mirrors directly. The two-point support plate with two steel pins ensures a definied position of the mirrors in the mounts and good repeatability, too. A plastic bolt clamps the mirrors with low forces.
The center heights of the K 100 are chosen in the way that all versions are SYS 90 compatible ø 101.6 mm (4"), ø 127 mm (5") and ø 152.4 mm (6") on base plate FP 70x70x15).
The mirror mounts can be supplied with fine-thread screws or micrometers.
Mirror mounts with motorization can be supplied on request.
for use with SYS 90
deformation-resistant aluminium
reflection-poor, black anodized
two-point support plate with hardened steel pins
ways of installing
- for use with SYS 90 direct on optical table with base plate FP 70x70x15
- on pin with pin adapter
Option
- vacuum-prepared versions available
| Art. Nbr. | Type | Title |
| --- | --- | --- |
| 26.110.1001 | K 100-D100-FGS | mirror mounts K 100, kinematic, for ø 101.6 mm (4") optics, with fine-thread screws |
| 26.110.1002 | K 100-D100-MS | mirror mounts K 100, kinematic, for ø 101.6 mm (4") optics, with micrometers |
| 26.110.1251 | K 100-D125-FGS | mirror mounts K 100, kinematic, for ø 127 mm (5") optics, with fine-thread screws |
| 26.110.1252 | K 100-D125-MS | mirror mounts K 100, kinematic, for ø 127 mm (5") optics, with micrometers |
| 26.110.1501 | K 100-D150-FGS | mirror mounts K 100, kinematic, for ø 152.4 mm (6") optics, with fine-thread screws |
| 26.110.1502 | K 100-D150-MS | mirror mounts K 100, kinematic, for ø 152.4 mm (6") optics, with micrometers |
| 26.907.0015 | FP 70x70x15 | base plate 70 x 70 x 15 mm |
| 21.115.8325 | STF 15-25-AM8-3 | pin adapter M6-M8 |