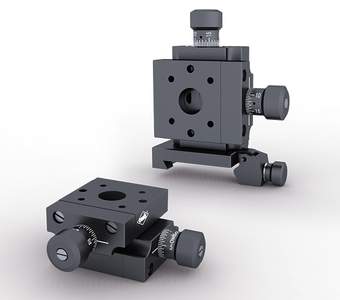 Miniature XY Stages MKT 30
OWIS Fine opto-mechanics
Description
The MKT 30 miniature XY stages are made for adjustment tasks in smallest areas. With an edge length of only 30 mm, they provide an opening of ≥7 mm for the complete travel range of 3 mm (±1.5 mm).
The MKT 30 are supplied with fine-thread spindles and a graduated button. They can bear equally large loads in both directions thanks to forced return travel of the slide.
The MKT 30-D10-S miniature XY stages mounted on slides RT 40 have the beam height of the SYS 40.
for use with SYS 40
deformation-resistant aluminium
reflection-poor, black anodized
with fine-thread spindle
compact design
low mass
ways of installing:
– on rail
– on pin
Option
- non-magnetic or vacuum-prepared versions available
| Art. Nbr. | Type | Title |
| --- | --- | --- |
| 14.332.1310 | MKT 30-D10-RT40 | miniature XY stages MKT 30, on slide RT 40-20-R |
| 14.332.1320 | MKT 30-D10-S | miniature XY stages MKT 30, with pin adapter plate |
| 14.332.1330 | MKT 30-D10-EP | miniature XY stages MKT 30, with end plate |
| 14.021.0020 | RT 40-20-R | slide SYS 40, 20 mm, with knurled screw |
|   | STF 15 | pin 15 - s. product information STF 15 |