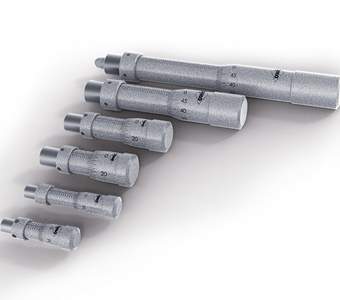 Micrometers MS
OWIS Fine opto-mechanics
Description
The OWIS® MS micrometers have hardened and precisely grounded spindles. Measurement drum and bush are matt chrome plated and therefore offer greatest possible contrast to the scale lines. A hardened steel ball is embedded in the spindle as a thrust piece. Therefore, these micrometers are particularly suited as highly precise actuators.
The micrometers are available in three sizes. They differ in the drum- and brushing diameter, in the spindle pitch, the fastening thread as well as in the travels between 6.0 and 50.0 mm.
The micrometers MS 6 are equipped with a fastening thread of M6 x 0.5, MS 9 with M9 x 0.5 and MS 12 with M12 x 0.5.
With the corresponding counter nuts the micrometers can be fixed after mounting.
accuracy according to DIN 863
measuring drum and bush matt chrome plated
graduation of scale: 5 µm (MS 6 and MS 9) resp. 10 µm (MS 12)
indication range 6 mm, 10 mm, 12 mm, 15 mm, 25 mm and 50 mm, depending on type
spindle pitch 0.25 mm or 0.5 mm, depending on type
Option
- vacuum-prepared versions available
| Art. Nbr. | Type | Title |
| --- | --- | --- |
| 91.206.1062 | MS 6-6 | micrometer with 6 mm measuring range, mounting thread M6 x 0.5 |
| 91.206.1122 | MS 6-12 | micrometer with 12 mm measuring range, mounting thread M6 x 0.5 |
| 91.209.1102 | MS 9-10 | micrometer with 10 mm measuring range, mounting thread M9 x 0.5 |
| 91.209.1152 | MS 9-15 | micrometer with 15 mm measuring range, mounting thread M9 x 0.5 |
| 91.212.1255 | MS 12-25 | micrometer with 25 mm measuring range, mounting thread M12 x 0.5 |
| 91.212.1505 | MS 12-50 | micrometer with 50 mm measuring rane, mounting thread M12 x 0.5 |