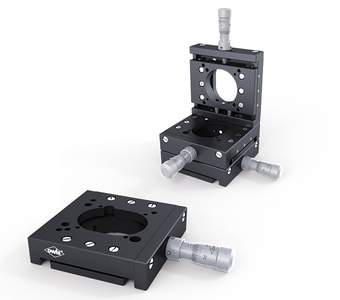 Measuring Stages MT 50
OWIS Fine opto-mechanics
Description
The MT 50 measuring stages with crossed roller bearing guides are principally conceived for holding optical components.
For mounting vertically to the optical axis, they have a central aperture of 22 mm. They are only 12.5 mm thick. This makes very compact configurations possible.
The MT 50 can also be used in SYS 40 under certain conditions.
measuring range 6 mm
compact design
preloaded precision crossed roller bearing guides
deformation-resistant aluminium
reflection-poor, black anodized
with micrometers
for optics up to 25 mm
free aperture 22 mm
XYZ mounting without aditional Z angle possible
Option
- vacuum-prepared versions available
| Art. Nbr. | Type | Title |
| --- | --- | --- |
| 31.054.0681 | MT 50-6-X-MS | measuring stages X, 6 mm measuring range, with central micrometer |
| 31.054.0682 | MT 50-6-XY-MS | measuring stages XY, 6 mm measuring range, with central micrometers |
| 31.054.0683 | MT 50-6-XYZ-MS | measuring stages XYZ, 6 mm measuring range, with central micrometers |