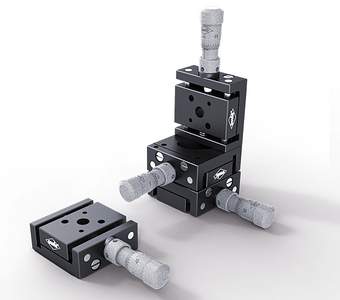 Measuring Stages MT 30
OWIS Fine opto-mechanics
Description
The proven measuring stages of the MT 30 series have a compact design and a broad range of R&D and industrial applications.
They allow space-saving high-precision positioning of small components. The M6 center holes have an aperture of 4.8 mm. They can be used for various micro-optical applications as well as for mounting MT 30 stages on pin adapters.
All aluminium parts have a top-quality black anodized protective coating.
measuring range 5 mm
very compact design
preloaded linear ball bearing guides
deformation-resistant aluminium
reflection-poor, black anodized
with micrometers
aperture for micro-optical applications
ways of installing:
– on optical table with adapter plate ADP 65-A
– on goniometers (MO)GO 65 with adapter plate ADP 60-A
– XYZ mounting without additional Z angle possible
Option - vacuum-prepared versions available 
| Art. Nbr. | Type | Title |
| --- | --- | --- |
| 31.035.0581 | MT 30-5-X-MS | X measuring stages, 5 mm measuring range, with central micrometer |
| 31.035.0582 | MT 30-5-XY-MS | XY measuring stages, 5 mm measuring range, with central micrometer |
| 31.035.0583 | MT 30-5-XYZ-MS | XYZ measuring stages, 5 mm measuring range, with central micrometer |
| 24.900.6010 | ADP 60-A | adapter plate 60-A (60 x 60 x 7.5 mm), for mounting SYS 40 and SYS 65 components, VT 45 translation stages, and MT 45 and 50 measuring stages on 50 mm 4 x M4 bore grids. |
| 24.900.6510 | ADP 65-A | adapter plate 65-A (65 x 60 x 10 mm), for vertical mounting of measuring and translation stages as well as TRANS 65G and TRANS 90G on optical tables with M6 bore grids. Also for mounting small moveable stages in a vertical position and for mounting XY and XYZ combinations. |