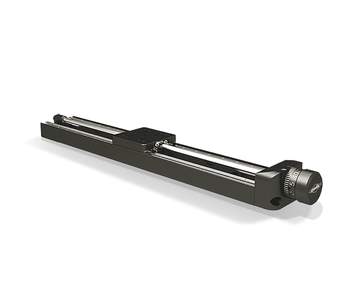 Linear Precision Stages LPT 30
OWIS Fine opto-mechanics
Description
The Linear Precision Stages LPT 30 are characterized by their compact design. With a width of 30 mm and a working height of 16 mm they are shallower and narrower than a matchbox. However these stages have a load capacity of 100 N and are available in travels of 50 mm, 100 mm and 150 mm.
The fixing device is easy to handle at the rotating knob. With this the position can be fixed at the spindle.
Of course all aluminium parts of the LPT 30 have a top quality black anodized protective coating.
travel 50 mm, 100 mm or 150 mm
deformation-resistant aluminium
reflection-poor, black anodized
fine-thread spindle with low backlash
carriage with ground and stainless recirculating ball bearing guides
fixing device to fix the adjusted position
ways of installing:
– on optical table with thread adapter M6-M3
– XY, XZ or XYZ assembly possible
Option
- vacuum-prepared versions available
Art. Nbr.
Type
Title
31.033.0050
LPT 30-50

linear precision stages, 50 mm travel

31.033.0100
LPT 30-100

linear precision stages, 100 mm travel

31.033.0150
LPT 30-150

linear precision stages, 150 mm travel

41.033.0001
MONT-LPT(M)30-100-150-Z

Z assembly bracket for linear precision stages of the LPT(M) 30 with 100 mm and
150 mm travel, without assembly

41.033.0002
MONT-LPT(M)30-50-Z

Z assembly bracket for linear precision stages of the LPT(M) 30 with 50 mm travel, without assembly

41.033.0004
MONT-LPT(M)30-XY

XY assembly kit for linear precision stages of the LPT(M) 30 series, without assembly

41.033.0014
MONT-LPT(M)30-XY-MM

XY assembly kit for linear precision stages of the LPT(M) 30 series, with assembly

98.010.0603
GRH M6-M3-SET 10ST

10 x thread reducing bushs M6 to M3