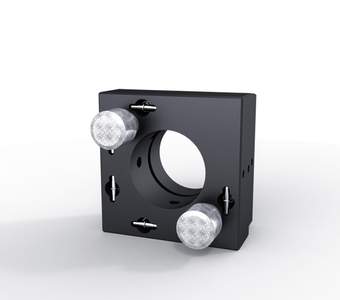 Laser Mirror Mounts LSH 65
OWIS Fine opto-mechanics
Description
The laser mirror mounts LSH 65 are high-precision transmitting mounts specially conceived for use as resonator mirror mounts. Using a RT 65 slide and a S 65 system rail, a highly stable laser resonator can be set up.
The adjustment mounts have a central hole with a 35 mm diameter to hold mounted optics or other components. The horizontal and vertical angles can be adjusted independently of one another. The maximum tilt is 6° (±3°).
Fine-thread screws with a 0.35 mm pitch are available as adjustment elements. On demand, short fine-thread screws with hexagon socket and locking are available for applications in serial devices.
for use with SYS 65
deformation-resistant aluminium
reflection-poor, black anodized
suitable for mounting laser resonators
ways of installing
- for use with SYS 65 direct on slide RT 65
- on pin
| Art. Nbr. | Type | Title |
| --- | --- | --- |
| 16.250.3501 | LSH 65 | laser mirror mounts, ø 35 mm, for mounted optics, with fine-thread screws |
| 16.021.0020 | RT 65-20-R | slide SYS 65, 20 mm, with knurled screw |
| 16.022.0020 | RT 65-20-M4 | slide RT 65, 20 mm, with hexagon socket head cap screw |
| | STF 15 | pin 15 - s. product information STF 15 |