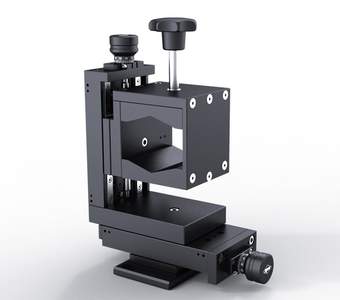 Laser Adjustments LJ 80
OWIS Fine opto-mechanics
Description
The LJ 80 laser adjustments consist of a prismatic clamping device which can be adjusted linearly in two axes, perpendicularly to the beam direction and swing around two axes.
The linear travel motion is transferred by an ergonomic adjusting knob to a fine-thread spindel. A clamping device prevents drifting off in the adjusted position.
The swivel movement of the two axes of rotation is implemented with the laterally attached mechanics, mounted backflash-free. Using fine-thread screws with knureld head, a sensitive rotating motion is generated, preloaded with spring tension.
deformation-resistant aluminium
reflection-poor, black anodized
2 linear and 2 swivel axes
high stability
recirculating ball bearings
fine-thread spindle with fixing device
way of installing
- on optical table via slotted holes for M6 in a 100 mm distance
Art. Nbr.
Type
Title
26.805.2057
LJ 80-D54-XY

laser adjustments for lasers ø 18.5 up to 54 mm,

with 2 linear and 2 rotation axes