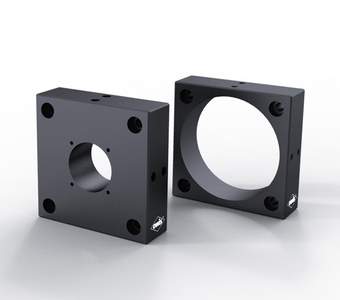 Holders for Mounted Optics OH 65-D
OWIS Fine opto-mechanics
Description
Mounted optics, inserts and adjustable inserts are located in position in the optical path with OH 65-D holders for mounted optics. The mounting diameters correspond to the external diameters of the most commonly used mounts.
All OH 65-D optic holders have M4 tapped holes for mounting on slides RT 65. The holders with hole diameter up to 45 mm have an additional central M6 tapped hole to be mounted on pins STF 15.
Holders with other diameters are available on request.
for use with SYS 65
deformation-resistant aluminium
reflection-poor, black anodized
4 different mounting diameters
ways of installing
- on slide RT 65
- on pin
Option
- non-magnetic or vacuum-prepared versions available
| Art. Nbr. | Type | Title |
| --- | --- | --- |
| 16.110.0000 | OH 65-D0 | optic holder without hole |
| 16.110.0025 | OH 65-D25 | optic holder for ø 25 mm |
| 16.110.0035 | OH 65-D35 | optic holder for ø 35 mm |
| 16.110.0045 | OH 65-D45 | optic holder for ø 45 mm |
| 16.110.0056 | OH 65-D56 | optic holder for ø 56 mm |
| 16.021.0020 | RT 65-20-R | slide SYS 65, 20 mm, with knurled screw |
| 16.022.0020 | RT 65-20-M4 | slide RT 65, 20 mm, with hexagon socket head cap screw |
| | STF 15 | pin 15 - s. product information STF 15 |