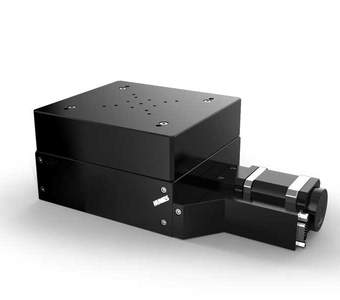 High-Precision Elevator Stages HUMES 150
OWIS Fine opto-mechanics
Description
The HUMES 150 elevator stages provide high-precision positioning also for heavy loads. To achieve high accuracy, the HUMES 150 are equipped with components made with high precision. Optionally an directly integrable measurement system returns accurate position feedback with highest resolution.
The spindle driven guiding system allows further mountings in the direction using horizontal travel range as well as upside down applications. The used miniature guides do still allow high loads. Travel ranges of 30 mm can be realized with high resolutions. Depending on the requirements of the application, a step motor or a DC servo motor version can be selected. For protection of the mechanics, Hall-effect or mechanical limit switches are integrated.
The top quality black anodized protective coating of the aluminium parts prevents reflections or stray light almost completely.
travel up to 30 mm
deformation-resistant aluminium
reflection-poor, black anodized
almost backlash-free ball screw
carriage with ground and stainless recirculating ball bearing guides
Hall-effect or mechanical limit switches
2-phase step motor or DC motor with encoder
with OWISid
Options
- version with integrated linear measuring system 
- brake
- vacuum-prepared versions available
| Art. Nbr. | Type | Title |
| --- | --- | --- |
| 42.158.30AD | HUMES 150-30-HiSM | high-precision elevator stages, 30 mm travel, with step motor und mechanical limit switches |
| 42.158.30BD | HUMES 150-30-MiSM | high-precision elevator stages, 30 mm travel, with step motor and mechanical limit switches |
| 42.158.30GJ | HUMES 150-30-HiDS | high-precision elevator stages, 30 mm travel, with DC servo motor and Hall-effect limit switches |
| 42.158.30WJ | HUMES 150-30-MiDS | high-precision elevator stages, 30 mm travel, with DC servo motor and mechanical limit switches |
| 42.153.0000 | MP-HTM150 | mounting plate 162 x 162 x 10 mm |
| 90.999.0011 | SST.F11 | grease for spindles, 5 ml in applicator |
| 90.999.0002 | SST.F2 | grease for guides, 5 ml in applicator |