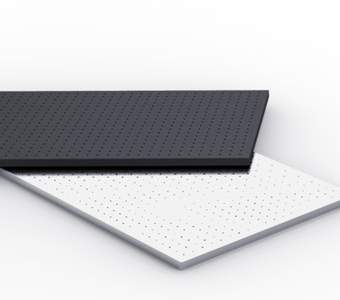 Grid Boards ARP
OWIS Fine opto-mechanics
Description
Grid boards are used as rugged experimental base plate with low weight.
They can be used for small movable assemblies, too.
You can order it in any dimensions up to 1500 x 500 mm. The plate thickness is 10 or 20 mm.
The surface area is screened with M6 threaded holes in 25 x 25 mm grid. The grid can be limited of partial areas.
Assemblies can directly be screwed together with the board or be fixed with clamping elements.
All grid boards are manufactured with deformation-resistant aluminium and are black anodized.
By request you can order red or other anodized colours for presentations or didactic applications.
grid 25 x 25 mm, M6
deformation-resistant aluminium
reflection-poor, black anodized
Options
- customized modifications
- non-magnetic or vacuum-prepared versions available
| Art. Nbr. | Type | Title |
| --- | --- | --- |
| 87.100.050.21 | ARP 100x50x2-M6x25 | grid boards 1000 x 500 x 20 mm |
| 87.075.050.21 | ARP 75x50x2-M6x25 | grid boards 750 x 500 x 20 mm |
| 87.050.050.21 | ARP 50x50x2-M6x25 | grid boards 500 x 500 x 20 mm |
| 87.050.050.11 | ARP 50x50x1-M6x25 | grid boards 500 x 500 x 10 mm |
| 87.050.030.11 | ARP 50x30x1-M6x25 | grid boards 500 x 300 x 10 mm |
| 87.040.030.11 | ARP 40x30x1-M6x25 | grid boards 400 x 300 x 10 mm |
| 87.030.030.11 | ARP 30x30x1-M6x25 | grid boards 300 x 300 x 10 mm |